Juhong Geulshi (The Scarlet Letter)
(2004)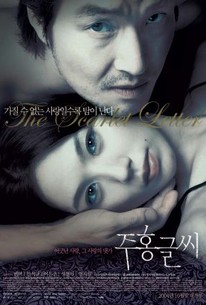 AUDIENCE SCORE
Critic Consensus: No consensus yet.
Movie Info
Egotistical police detective Ki-hun (Han Suk-gyu) leads a double life, easily maintaining a perfect marriage to Ga-hee (Lee Eun-joo) while having an affair with Ga-hee's friend Su-yeon (Um Ji-won). But Ki-hun's secret world begins to crumble when he investigates a murder case that centers on the victim's widow, sexy Kyong-hi (Sung Hyun-ah). Adultery factors into the murder, paralleling Ki-hun's life and resulting in a shocking plot twist.
Rating:
NR
Genre:
,
Directed By:
In Theaters:
On DVD:
Runtime:
Critic Reviews for Juhong Geulshi (The Scarlet Letter)
There are no critic reviews yet for Juhong Geulshi (The Scarlet Letter). Keep checking Rotten Tomatoes for updates!
Audience Reviews for Juhong Geulshi (The Scarlet Letter)
½
A serious adult movie, which is really more about the relationships. This film is a downer and even more depressing after realizing the shining star of the film, Lee Eun-Ju, committed suicide shortly after the film was completed due to depression she was experiencing and anger from her parents for being in a few nude scenes in this movie. The three lead actresses all are stunnningly attractive, but with distinct personalities. Lee Eun-Ju clearly rises above all, and is quite vibrant and authentic in her emotional range displayed in the story. Uhm Ji-Won, as the wife, seems rather innocent and stoic; playing her role in a minamilist style, very restrained as though she is on painkiller medication. The third jewel, Seong Hyeon-a, plays the role of the murder suspect, and acts and speaks as though she is on trial, choosing every word she speaks carefully and tentatively. All three beauties shine in their respective ways and provide a realism to the film rarely exhibited. The outlying story itself, i.e. the murder, is almost an afterthought. Overall its more a tale all too familiar in todays society, and moves very, very slowly. It is worth watching for Lee's performance alone; but be advised this is an agonizingly sad tale, with no winners.
*Spoilers ahead* This erotic thriller was light on the thrill and heavy on the erotic for a korean film. It centers around an asshole cop who is having an affair on his pregnant wife with his pregnant girlfriend. Meanwhile, he finds himself getting rapt in the drama of a woman suspected of murdering her husband. This turns out to be a red herring as we discover by the end that things are exactly what they seem although she is not to be brought to justice... her part in the story is merely to bookend the piece and leave the audience feeling empty inside. The real story here is the personal life of this jerky cop and his two lovers. Ultimately we discover that his wife and girlfriend were secret lovers. They only chose to be with him so they could be closer to each other... well, that's part of the story. The movie climaxes in a very controversial scene that I'll do my best to describe... Our cop friend takes his girlfriend out on a drive to get away from it all after they are found out by his wife. She's hoping he'll leave his wife for her and he's trying to figure out how to dump her. The pull off the road and park in front of a lake where they start to talk and then fool around. Kissing, they fall into the trunk and she closes the lid behind them. It starts out funny to them, but then gets serious as they realize help isn't coming. It's claustrophobic and fairly intense as they talk and cry and panic and struggle to get out. After a few days, she wants to kill herself (he does it for her) - but not before saying "you've pissed and shit yourself and you still want to live?" (hilarious). He spends two more days in the trunk with her corpse covered in her blood (and his own shit and piss apparently) and comes out still an asshole, but no longer a cop or a husband. I think people have a problem with this scene because they know that you can exit a trunk through the back seat. Well, assume this is a cop car that's been modified for whatever reason and the seats don't fold down from the trunk area. The girl who played the girlfriend actually killed herself shortly after this film was released. *END Spoilers So is it good? Well, it's very competent filmmaking. I found the acting to be pretty good as well. The only real issue is with the story. It's a good story, but it requires the audience to forgive a lot and you also need to be able to accept a downer ending. It's worth watching, but there are definitely better films out there.
Max A.
Juhong Geulshi (The Scarlet Letter) Quotes
There are no approved quotes yet for this movie.