Kin-Dza-Dza
(1986)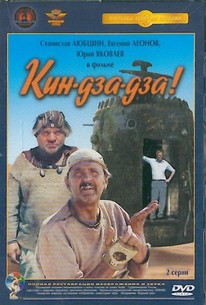 AUDIENCE SCORE
Critic Consensus: No consensus yet.
Critic Reviews for Kin-Dza-Dza
There are no critic reviews yet for Kin-Dza-Dza. Keep checking Rotten Tomatoes for updates!
Audience Reviews for Kin-Dza-Dza
½
In "Kin-Dza-Dza!" Vladimir(Stanislav Lyubshin) is on his way to the market when Gedevan(Levan Gabriadze) asks for his help in assisting a homeless person(Anatoli Serenko) who claims to be from another planet. And then to their dismay find out the hard way that he was nowhere near as crazy as he sounded when they materialize in an unfamiliar desert. Vladimir at least holds on to the hope that they are still on earth, at least until Be(Yury Yakoviev) and Uef(Yevgeny Leonov) show up in their flying contraption and are not able to understand a word they say. "Kin-Dza-Dza1" is an entertaining and imaginative entry in the long list of speculative fiction going back to Jonathan Swift to satirize society through fantastical settings. In this case, it adds a distinctly late Soviet flavor to the recipe of its observations of social mores, with pretty good effects for the time. And even better is the fact that this movie comes with its very own on-screen glossary. Granted it comes halfway through, long after it would have been good to know what 'etsilop' means.
I found this in a list of the top science fiction movies on IMDb and thought I would check it out. At first I was like 'o.O' but then I fell in love with it and as such is in my top 20 movies of all time.
Lauren Donis
Super Reviewer
One of the best Science Fiction movies I've ever seen and criminally underwatched. Made in Russia in the mid 80's, and a cult classic there, this has never been relesed on DVD in Europe or North America and there's been no official English translation (the version I saw was fan-subbed). The story follows the misadventures of two earthlings who find themselves on a distant planet called Kin-Dza-Dza, after being transported there by what they thought was a crazy street person. Upn arrivingon this planet they try to find their way back to earth but are confronted with a race of people with no compassion who only want to rip them off, and follow a ridiculous class system. Completely unique and darkly humourous throughout. While you won't find this in any videostores or on TV anytime soon, it is viewable on Google video and I'd recommend all sci-fi fan's check it out. You won't be dissappointed.
Ed Fucking Harris
Super Reviewer
Kin-Dza-Dza Quotes
There are no approved quotes yet for this movie.