Life Itself
(2018)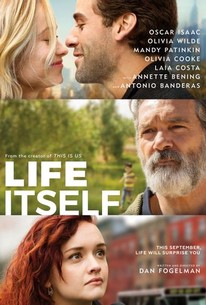 TOMATOMETER
AUDIENCE SCORE
Critic Consensus: A mawkish melodrama that means less the more it tries to say, Life Itself suggests writer-director Dan Fogelman's talents are best suited to television.
Movie Info
As a young New York couple goes from college romance to marriage and the birth of their first child, the unexpected twists of their journey create reverberations that echo over continents and through lifetimes in Life Itself. Director and writer Dan Fogelman ("This Is Us") examines the perils and rewards of everyday life in a multigenerational saga featuring an international ensemble including Oscar Isaac, Olivia Wilde, Antonio Banderas, Annette Bening, Olivia Cooke, Sergio Peris- Mencheta, Laia Costa, Alex Monner and Mandy Patinkin. Set in New York City and Carmona, Spain, Life Itself celebrates the human condition and all of its complications with humor, poignancy and love.
News & Interviews for Life Itself
Critic Reviews for Life Itself
Audience Reviews for Life Itself
½
Every experienced filmmaker knows when they have their audiences attention, but what is more telling of experienced filmmakers is that they know when they're losing their audience and thus adjust their film accordingly. Writer/director Dan Fogelman (the creator of a show I've never seen an episode of, but also a show Iï¿ 1/2(TM)ve never heard more about...This is Us) has only one previous feature under his belt as a director, but is an accomplished writer with a slew of solid credits to his name (including Tangled and Crazy Stupid Love as well as his immensely popular TV show). That taken into consideration, Fogelman knows-as a writer-when he has his audience in the palm of his hand and for the entirety of the first act of his new film, Life Itself, Fogelman has us right where he wants us until this unique and kind of experimental structure heï¿ 1/2(TM)s trying out more or less finds a groove of complacency that both causes the movie to lose steam and the audience to lose interest. Still, some of the performances here are outright fantastic-especially Oscar Isaac who transitions seamlessly over three different time periods and three wildly different mindsets. Olivia Wilde is so damn likable even if the movieï¿ 1/2(TM)s other Olivia, Olivia Cooke, is horribly wasted. Antonio Banderas is charming as ever, but it is Sergio Peris-Mencheta that really shines in the latter half of the film as the quietly honorable Javier. The final line reading by Isaac though, hammers home the perspective of sentiment Fogelman is chasing and more times than not-he lands it. One can easily call this emotionally manipulative, but I was invested, I was moved, and most importantly-I cared. Maybe I should give This is Us a chance...
Philip Price
Super Reviewer
.Under the thumb of writer/director Dan Fogelman (TV's This Is Us), the lives of several inter-connected characters in Life Itself are bonded by a seemingly endless assembly of human tragedy. That's life, he seems to say, but there's also a lot of death here. There's death by accident, death by suicide, death by cancer, parental abandonment, addiction, mental illness, let alone fleeting mentions of sexual abuse and incest. Throughout it all, the characters of Fogelman press onward, making whimsical observations about human existence and perception, some of which I don't think are quite as profound as he may think. What does "life is an unreliable narrator" exactly mean? I understand the implication of unexpected twists and turns, but life is objective, it's more a medium for events that others will impart differing perceptions... it doesn't matter. We jump around through multiple chapters across generations, though it all looks like it takes place in the same five or so years, waiting for the final revelations of what connect these different people and their stories of heartache. Much of the story hinges on these connective revelations because a far majority of the characters have little characterization other than broad strokes. they are pieces meant to form a puzzle. Because of its ensemble nature, some storylines are just more interesting than others, and some characters are given more meaningful things to do onscreen. The film gets significantly better once we transition away from Oscar Isaac as an over-caffeinated smarty-pants reflecting about his pregnant ex-wife (Olivia Wilde). From there we go overseas to an olive ranch in Italy and Antonio Banderas, who uncorks a swell Spanish monologue to a man he wants to ingratiate into his family. Fogelman alternates his hearty doses of old melodrama with meta asides, some of which work like a grandfather-granddaughter sit-down where they express the verbose subtext out loud, and some of them do not, like Samuel L. Jackson appearing as a literal flesh-and-blood narrator. An ongoing diatribe about a Bob Dylan song from his 1997 comeback album also seems a strange student film-level pretentious linchpin. I liked individual performances, individual moments, but Life Itself cannot escape the smothering effect that Fogelman employs as a dramatist, trying to turn every moment into a mosaic he feels will gain beauty and clarity if he just keeps pulling further and further back to reveal the grand design. It wants us to take comfort in the big picture but the details are misery. Nate's Grade: C+
Nate Zoebl
Super Reviewer
½
The division between television shows and films has been present since the beginning of both mediums, but as time goes on, television seems to be growing into a much more cinematic offering. With shows like Stranger Things or Game of Thrones (and many others), television is rapidly evolving. On the other hand, it can't really go the other way. If a television show feels like the quality of a feature film, people will praise it until the end of time, but the reverse is usually frowned upon. Life Itself has the talent of writer/director Dan Fogleman (Danny Collins, This Is Us) at the helm, and while his efforts are definitely present, this movie feels like a television show that has been running for weeks but condensed to fit a two hour run time. Here's why I believe Life Itself doesn't quite work as a film. The plot of the movie is a spoiler in itself, so I'll refrain from going too deep here. Life Itself follows a couple who met each other at a young age but are no longer together. Their love story sets the rest of the film in motion, making for an experience that just wants to connect people through time. This film tries very hard to pull at your heartstrings and it almost deals with death a little too often. Death is far too present throughout the course of this film, making for a very sober experience. Life Itself isn't afraid to go all out when trying to make something sappy feel authentic and raw, but I don't think it always accomplishes its goal. Life Itself has a cast that deserved to be in a far better film. From Oscar Isaac to Olivia Wilde, Antonio Banderas to Annette Benning, and even the little screen time that performers like Olivia Cooke receive are all stellar from beginning to end. Tears will be shed by many, due to the sheer notion that these actors and actresses make this screenplay much better than it truly is. The screenplay itself is fine if it had been written as a short film, which leads me to my next point. The story for this film is actually quite good and may have been incredible if it had been told as a short film with not much dialogue or a ten-episode television show that fleshes out everything that felt too brief. We are given barely enough time with each character to truly care about where this story ends up throughout the final act, so I found myself latching onto early moments in the movie that had me genuinely shocked. The first act of this movie boasts a fantastic sequence involving Oscar Isaac's character in Will. I was hoping that the effectiveness that these specific moments brought to the movie would continue on, but they sort of fell by the wayside, in favour of linking storylines for the sake of an emotional twist. This is a film that's broken up into segments that may or may not eventually link together and audiences are asked to go along with many new stories, in hopes that it means something later in the film. I enjoyed each segment of the film for the most part, but the surprises just felt forced, in my opinion. Everything felt too convenient and obvious when certain elements came into play by the conclusion, but it's done in such a way that will most likely have some people weeping. I did find myself tearing up on a few occasions, but only due to either a performance or how a specific connection was made. It's well done, but not as a feature film. That may seem like a cop-out explanation, but I definitely feel that this film would've been so much better as something else. In the end, Life Itself does benefit from solid direction by Dan Fogleman. He was able to ring out some terrific performances here and piece this movie together in a way that may be clever to some viewers, but it really didn't work for me. This is the type of film that probably won't be received well by critics, due to the overall execution of it, but I can see audiences getting wrapped up in the emotional core of the movie as a whole. I fell somewhere in the middle of those two, feeling underwhelmed by the execution, but impressed at the effort made in attempting something different. I can't personally recommend this movie as a great film, but if you enjoy a bit of sap and a good cry, you may find some enjoyment out of Life Itself.
Life Itself Quotes
There are no approved quotes yet for this movie.