LOL (Laughing Out Loud)
(2008)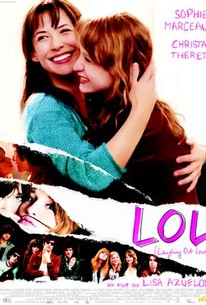 AUDIENCE SCORE
Critic Consensus: No consensus yet.
Movie Info
A mother and daughter find themselves dealing with surprisingly similar romantic difficulties in this light-hearted French comedy. Lola (Christa Theret) is a pretty fourteen-year-old girl living with her mother Anne (Sophie Marceau), who is divorced from Alain (Alexandre Astier), Lola's dad. Young Lola has been taking her first steps into teenage romance, and has been dating a boy from her class named Arthur (Felix Moati), but when she decides to break things off with him, the situation becomes tense after Lola starts seeing his close friend Mael (Jeremy Kapone). Meanwhile, as a typical child of divorce Lola likes to play her mother and father against each other for her own advantage, but what she doesn't know is that Anne and Alain have begun dating again on the sly. Written and directed by Lisa Azuelos, Lol features music from Supergrass, Blur, Keane and Junesex.
Critic Reviews for LOL (Laughing Out Loud)
All Critics (1) | Top Critics (1) | Fresh (1) | Rotten (0)
Jaw-droppingly handsome cast, laugh-out-loud moments aplenty and a finely sketched, more serious undertow should make this third feature by Gallic helmer Lisa Azuelos a big hit in Gaul.

Audience Reviews for LOL (Laughing Out Loud)
½
Three trimesters in the lives of a handful of bratty highschoolers and their efforts to have fun despite their constantly interfering parents. A movie pandering to the teen market where all the teachers are foolish and all parents are authoritarian assholes. The lone exception is top-billed Sophie Marceau, mother of main character Lola (or Lol for short, hence part of the unclever title), experiencing the most character development during her efforts to cope with her daughter's rebelliousness, her rekindled physical relationship with her ex-husband, and finding sparks fly after meeting a handsome policeman. She gives her customary compelling layered performance, and to be blunt this would be insufferable without her. Lola is a decent actress too but her Lola is so petty and fickle that it's difficult to summon much sympathy for her. Their contentious relationship is the most interesting facet, especially when parallels are drawn showing that despite the generation gap they are not that different, a screenplay focusing more on that would've been more worthwhile than the usual boyfriend woes and search for a good buzz. Demonstrates a conspicuous love for American culture (and it's still funny hearing speakers of such a beautiful language pronounce "cool") while unreservedly making fun of the English during a field trip to London. Also holds time-capsule worthy distinction as showcasing the worst dude haircuts in movie history - admittedly they are in a band, but still the out-of-control Arctic Monkey scruffiness is already hilariously passe at just 7 years old.
Doctor Strangeblog
Super Reviewer
LOL in text messaging means "Laughing Out Loud" and we all did that watching this irresistible French movie with Sophie Marceau while recognizing our own relationship faults. The movie's title is, actually, the nickname of the 14-year-old Lola, who is returning to school after the summer break... Her boyfriend tell her that he cheated on her and she moves on to his (and her) best friend Mael... her divorced mother secretly meets her father... everyone smokes joints - even the detective her mother hooks up with... Plenty of laughing moments in this comedy of growing up a family in which Lisa Azuelos shows us her directorship virtuosity!
LOL (Laughing Out Loud) Quotes
There are no approved quotes yet for this movie.
Discussion Forum
Discuss LOL (Laughing Out Loud) on our Movie forum!