Love Serenade
(1997)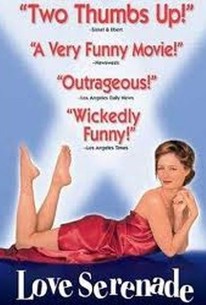 Movie Info
A middle-aged disc jockey becomes romantically entangled with a pair of sisters in this quirky Australian comedy. Vicki-Ann Hurley (Rebecca Frith) and her younger sister Dimity (Miranda Otto) are both feeling stagnant in the tiny outback town of Sunray, and they welcome the distraction provided by the arrival of Ken Sherry (George Shevtsov), a formerly popular radio personality fallen on hard times. Despite his present circumstance, the burnt-out Sherry retains an aura of faded prestige that attracts both sisters. Vicki-Ann sets out to seduce the disc jockey, but it is Dimity who first draws Sherry's attention, setting the stage for a conflict between the sisters. First-time filmmaker Shirley Barrett plays this conflict not for romantic melodrama but for comedy, focusing on how Vicki-Ann and Dimity adapt to their experiences with the mysterious Sherry, whose enigmatic demeanor may hide a deeper secret. Barrett plays out this triangle against a detailed portrait of a failing town, emphasizing the distinctive local color and oddball characters in a manner that should appeal most to those with a taste for the unusual.
Critic Reviews for Love Serenade
Audience Reviews for Love Serenade
One of my absolute all time favourite Australian films. Absolutely perfect and so funny. I love Miranda Otto as Dimity here. So awkward and really relatable and believable. (to me, anyhow. Probably best I don't think too hard about how I can relate to that character!). All the characters here are just spot on - sleazy Ken Sherry the DJ and Vicki Anne, Dimity's neurotic sister. Really funny movie. Love it.
Nicki Marie
Super Reviewer
Leigh Ryan
Super Reviewer
½
It's kinda weird in some parts but anytime the two sisters are together its funny as hell. The younger one is Miranda Otto from Lord of the rings. She is really good in this one.
monty hawes
Super Reviewer