Kataude mashin gâru (The Machine Girl)
(2008)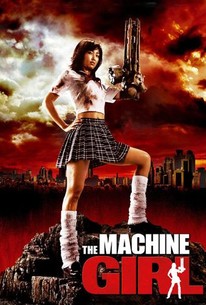 Kataude mashin gâru (The Machine Girl) Photos
Movie Info
A teenage girl shows the mob who's boss in this over-the-top blend of action, horror, and comedy. Ami (Minase Yashiro) is a seemingly ordinary Japanese schoolgirl who refuses to turn a blind eye when thugs at her school subject her little brother to needless cruelty. Ami retaliates against the vicious kids and their folks, which turns out to be a dangerous decision when she discovers some of them are connected to local gangsters. Ami is kidnapped by strong-arm men whose intimidation tactics include cutting off one of her arms, but Ami refuses to let the criminals go unpunished. With the help of a mechanic sympathetic to her cause, Ami's arm is replaced with a high-caliber machine gun, and she is transformed into a single-minded killing machine in a school uniform. Kataude mashin garu (aka The Machine Girl) also stars Asami Kentaro Shimazu and Taro Suwa. ~ Mark Deming, Rovi
Critic Reviews for Kataude mashin gâru (The Machine Girl)
Audience Reviews for Kataude mashin gâru (The Machine Girl)
[img]http://images.rottentomatoes.com/images/user/icons/icon14.gif[/img]
Directors Cat
Super Reviewer
The brother of a high school girl is bullied to death by the son of a Yakuza and she wreaks her revenge using a prosthetic arm fashioned from a machine gun. Gore can work. The over the top loony tunes violence of Ichi The Killer, the visual invention of Tetsuo and pure slapstick comedy of Evil Dead 2 made for some great films. Unfortunately the kinds of witless goons they inspire tend to concentrate on adolescent fetishism and just use it all as a excuse to dress girls in school uniform and spray fake blood everywhere. Machine Girl is one of those films that would've made a funny trailer in Grindhouse but stretched out for 90 minutes the puerile script, dimwitted dialogue, amateurish direction, terrible performances and rubbish visual effects make it as painful experience for the audience as Ami's victims. Of course, none of this would've mattered if it had been funny. It isn't. Maybe not quite as crass and tedious as Tokyo Gore Police, but it's still nothing but cheap and nasty and immature.
Noboru Iguchi takes low budget to another level with The Machine Girl.
There isn't a much to think about when it comes to the plot and what it all comes down to is a 90 minute story of bloody revenge; emphasis on the bloody. The introduction hooks, delivers, and then never lets go until the closing credits with a well paced story in between.
Unsurprisingly, the highlight of this picture is the violence and the gore. While shying away from realism, The Machine Girl has fun with its over the top blood fest and it's also not afraid to think outside of the box. A machine gun attachment for an arm and a drill bra are prime examples. To top it all off, buckets and buckets of fake blood rain down throughout the movie.
A lot of the characters are overacted, but with the nature of this film, it fits right in. Minase Yashiro has got the looks, and combining that with her kick-a** character is a bonus. Asami also falls into the same boat. Talk about girl power.
The Machine Girl may not have a sophisticated story, but it does have cute girls dishing out some pain. Isn't that all that is required for a good time?
Kataude mashin gâru (The Machine Girl) Quotes
There are no approved quotes yet for this movie.