Mallrats
(1995)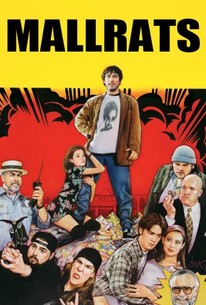 Mallrats Videos
Mallrats Photos
Movie Info
Kevin Smith's follow-up to his unexpected hit Clerks details the pointless story of T.S. (Jeremy London) and Brodie (Jason Lee), two suburban New Jersey slackers who decide to head to the mall in search of solace after being dumped by their girlfriends (Shannon Doherty and Claire Forlani, respectively). There the two young men machinate to appear on a game show being staged and also manage to meet comic-book magnate Stan Lee. However, complications arise when the girls show up. ~ Jeremy Beday, Rovi
Rating:
R (adult situations/language)
Genre:
Directed By:
Written By:
In Theaters:
On DVD:
Runtime:
Studio:
MCA Universal Home Video
Cast
News & Interviews for Mallrats
Critic Reviews for Mallrats
Audience Reviews for Mallrats
½
17 years ago I was around 10 years old, magic eyes were in every daily newspaper comics section, vhs tapes were all we knew, the Sega Genesis was the racy video game machine, and punk rock was beginning its heyday. There was barely an internet and there was no e-commerce, nor were there shopping centers like we have now; there were only malls. Malls with arcades, pet stores and comic book stores. Mallrats, from 1995, captures this moment in time. This is a very stupid movie, but Kevin Smith does to "stupid comedy" what Quintin Tarantino does to "violence" -- adds an entertaining, signature style and atmosphere (and off-plot dialogue of random observations). They are both confident in their unorthodox approaches, doing things no other filmmakers have the guts to try or sense to pull off (Did I really just do a magic eye image? ..Yes, and that was no sailboat!). This movie knows what it is, bad acting included, and it doesn't care if I don't like it - it was only made for those that would. If I had seen this as an adult 17 years ago, I likely would have thought it banal and given it 2 stars. But seeing it now, well I guess I'm one of the lucky ones!
Matthew Slaven
Super Reviewer
½
Though this a brainless, disappointing follow-up to Clerks, it's still enjoyable just to enter back into the world of Kevin Smith.
Graham Jones
Super Reviewer
½
Brodie: Listen, not a year goes by, not a year, that I don't hear about some escalator accident involving some bastard kid which could have easily been avoided had some parent - I don't care which one - but some parent conditioned him to fear and respect that escalator.  "It's mall or nothing" Okay, so Mallrats isn't Clerks or Chasing Amy; it is still funny and entertaining in ways only a Kevin Smith film can be. Filled with foul language and gross out dialogue; Mallrats is a movie that is pretty much identical to Clerks in concept. The film gives us two friends, who hang out at one location and talk all day. Occasionally something happens, like an elevator fuck, but for the most part it is just an average day in the life of two best friend losers. Both T.S. and Brodie have been dumped by their girlfriends on the same morning. After meeting up and learning that the other has had the same misfortune, they decide to go hang out at the mall. There they run into a cast of characters. There's a guy who stares at a picture all day trying to see the 3-D image. There's a 15 year old genius who is writing a book on males sex drive. Stan Lee is having a comic signing in the mall. Brodie's archenemy, Shannon, works in a store there and is making the moves on his now ex-girlfriend. And of course Jay and Silent Bob are there hanging out, doing nothing.  This movie doesn't reach the hilariousness of Clerks, but for a second directorial project, it is pretty good. It has the great indie feel that all of Smith's works have. It is packed full of all of the entertainment Smith loves like comic books and Star Wars. In fact, the whole movie Silent Bob is trying to do the Jedi mind trick.  Mallrats isn't great, but if you have seen some of Smith's other films and liked them, odds are you will like this one too. If you have seen and disliked movies like Clerks and Chasing Amy, even Jay and Silent Bob Strike Back; I can pretty much guarantee you won't like this one anymore. In fact, you'll probably like it less. 
Melvin White
Super Reviewer
Discussion Forum
Discuss Mallrats on our Movie forum!
News & Features