Mallrats
(1995)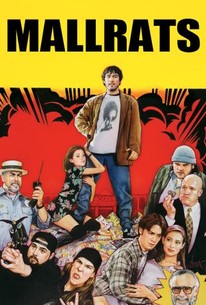 Movie Info
Kevin Smith's follow-up to his unexpected hit Clerks details the pointless story of T.S. (Jeremy London) and Brodie (Jason Lee), two suburban New Jersey slackers who decide to head to the mall in search of solace after being dumped by their girlfriends (Shannon Doherty and Claire Forlani, respectively). There the two young men machinate to appear on a game show being staged and also manage to meet comic-book magnate Stan Lee. However, complications arise when the girls show up. ~ Jeremy Beday, Rovi
News & Interviews for Mallrats
Critic Reviews for Mallrats
All Critics (42) | Top Critics (9) | Fresh (23) | Rotten (19) | DVD (17)
Mallrats mixes clever bits and an appealing quirkiness (which goes a long way) with gross-out practical jokes, needless repetition and obvious padding, since it has no real plot.
May 20, 2003 | Rating: 2/5
New York Times
Top Critic
If the Sundance Institute or the AFI ever offers a course advising directors of successful first films what to avoid the second time around, Mallrats could be at the heart of the curriculum.

Los Angeles Times
Top Critic
Smith has slicked up his follow-up vision of Slackerville USA, but the outcome is nowhere near as brash and original.
January 1, 2000 | Rating: 2.5/4
Between the routines and retorts, there's a lot of narrative dead air -- and far too many new guests.

Washington Post
Top Critic
The fatal flaw in plotting the material is that we don't care.

Chicago Sun-Times
Top Critic
Despite a broad range of effective comedy and a decent laugh-per-minute ratio, Mallrats is likely to be a moderate disappointment for anyone who guffawed their way through the previous film.

Audience Reviews for Mallrats
½
Not only poorly directed and with an awful score, but most of the gags are painfully unfunny and most of the characters are painfully annoying in a stupid story that can't find any compelling reason to exist and is only a misfire that plods along with no sense of structure.
Carlos Magalhães
Super Reviewer
½
17 years ago I was around 10 years old, magic eyes were in every daily newspaper comics section, vhs tapes were all we knew, the Sega Genesis was the racy video game machine, and punk rock was beginning its heyday. There was barely an internet and there was no e-commerce, nor were there shopping centers like we have now; there were only malls. Malls with arcades, pet stores and comic book stores. Mallrats, from 1995, captures this moment in time. This is a very stupid movie, but Kevin Smith does to "stupid comedy" what Quintin Tarantino does to "violence" -- adds an entertaining, signature style and atmosphere (and off-plot dialogue of random observations). They are both confident in their unorthodox approaches, doing things no other filmmakers have the guts to try or sense to pull off (Did I really just do a magic eye image? ..Yes, and that was no sailboat!). This movie knows what it is, bad acting included, and it doesn't care if I don't like it - it was only made for those that would. If I had seen this as an adult 17 years ago, I likely would have thought it banal and given it 2 stars. But seeing it now, well I guess I'm one of the lucky ones!
Matthew Slaven
Super Reviewer
½
Though this a brainless, disappointing follow-up to Clerks, it's still enjoyable just to enter back into the world of Kevin Smith.
Graham Jones
Super Reviewer
Mallrats Quotes
| | |
| --- | --- |
| Tricia: | When are men going to learn that women want romance, not Mr. Toad's Wild Ride? |
| Brodie: | Be fair, all right? Everyone wants Mr. Toad's Wild Ride. |
| | |
| --- | --- |
| Brodie: | I love the smell of commerce in the morning. |
| | |
| --- | --- |
| T.S. Quint: | I'd prefer ritual suicide. |
| | |
| --- | --- |
| Brodie: | Breakfasts come and go, Rene. Now Hartford? The Whale? They only beat Vancouver once, maybe twice in a lifetime. |
| Brodie: | Breakfasts come and go, Rene, but Hartford, 'the Whale,' they only beat Vancouver once, maybe twice in a lifetime. |
Discussion Forum
Discuss Mallrats on our Movie forum!