Moana
(2016)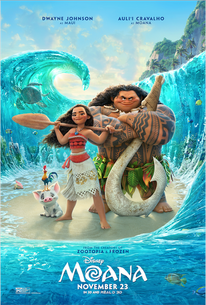 TOMATOMETER
AUDIENCE SCORE
Critic Consensus: With a title character as three-dimensional as its lush animation and a story that adds fresh depth to Disney's time-tested formula, Moana is truly a family-friendly adventure for the ages.
Movie Info
Three thousand years ago, the greatest sailors in the world voyaged across the vast Pacific, discovering the many islands of Oceania. But then, for a millennium, their voyages stopped - and no one knows exactly why. From Walt Disney Animation Studios comes "Moana," a sweeping, CG-animated feature film about an adventurous teenager who sails out on a daring mission to save her people. During her journey, Moana (voice of Auli'i Cravalho) meets the mighty demigod Maui (voice of Dwayne Johnson), who guides her in her quest to become a master wayfinder. Together, they sail across the open ocean on an action-packed voyage, encountering enormous monsters and impossible odds, and along the way, Moana fulfills the ancient quest of her ancestors and discovers the one thing she's always sought: her own identity. Directed by the renowned filmmaking team of Ron Clements and John Musker ("The Little Mermaid," "Aladdin," "The Princess & the Frog"), produced by Osnat Shurer ("Lifted," "One Man Band"), and featuring music by Lin-Manuel Miranda, Mark Mancina and Opetaia Foa'i, "Moana" sails into U.S. theaters on Nov. 23, 2016.
News & Interviews for Moana
Audience Reviews for Moana
½
A plethora of directors bring the coconuts to life in Moana. Sailing across the ocean at 100 minutes, Moana delivers a predictable, yet heartfelt family story. Most of the way, the plot relies on a couple major characters and a third that doesn't speak. The great character chemistry is enough to keep the canoe afloat even during the slowest of times. Catchy tunes show up along the way as needed. Granted the film is a lot of ocean, Moana satisfies visually with its color and high caliber graphics to lead the way. Character designs are nicely done as well. Dwayne Johnson and Auli'i Cravalho fill the voices of Maui and Moana respectively. The rest of the characters are voiced as they come in and out of the story. Moana is everything an animated Disney film sets out to be. Become a master wayfinder and set sail.
½
The Polynesian-based animated musical Moana is a throwback to the Disney formula of the 1990s that became so familiar and entrenched. The time away has made it a welcomed return, especially when executed to this magnificent magnitude. A formula by itself is not a problem, in theory. Many of our favorite movies follow storytelling paths that others have trod well before, but it's all about the level of execution, building characters that an audience cares about, a conflict that feels involving and escalating, and payoffs that are naturally setup throughout the plotting. With a formula, it's not the song it's the singer, and Moana is a splendid and delightful animated movie that should enchant all ages with colorful characters, catchy songs, and the familiar formula of old given surprising and rewarding depths. It's a lovingly made movie I fell in love with. In ancient times among the Polynesian islands, the demigod Maui (voiced by Dwayne "The Rock" Johnson) stole the literal heart of the goddess Te Fiti, a shining green emerald responsible for creating life. Many years later, Moana (voiced by Auli'i Cravalho) is a teenage girl next n line to be the chief of her people. Much is expected of her for the betterment of the island but Moana would rather be out there on the water, a passion that her father forbids. Her island is in dire trouble when the food supplies are rotting or disappearing. Moana's eccentric grandmother (voiced by Rachel House) tells her what must happen: she must venture out to sea, find Maui, retrieve his magic fishhook, and force Maui to return Te Fiti's heart to the source. Moana sneaks away and embarks on a great adventure that will test her skills and her sense of who she is and what her calling should be. With a few clever nods, Moana intimates to its audience that it knows what they expect and will be delivering the best of the old formula without being slavishly lockstep in its execution. The Disney formula of the hero or heroine yearning for something grander from their supposedly drab existence became a crutch after the apex of the Disney Renaissance in the mid 90s. The overprotective father who doesn't want their daughter or son to break far from tradition will also be plenty familiar. With Moana, the masters who kickstarted that Renaissance, directors Ron Clements and John Musker, return to the formula but also know what to subvert, what to tweak, and what to dive right into. While it's not as subversive as mildly revolutionary for a Disney movie as Frozen, this is still a movie that anticipates the connections an audience will make and knowingly tweaks them. On her island, Moana has a cute little pig sidekick who you expect to make the journey with her... except it doesn't. Instead the brain-dead chicken, a reliable source of comic relief, is her traveling animal companion. Moana prickles at being called a princess; she's the daughter of the chief and actually already functions in a ruling capacity. "If you wear a dress and have an animal sidekick, you're a princess," he nonchalantly retorts. There's also a lesson in what constitutes good and evil as all the villains and reprobates of legend are far more ambiguous. There's also a refreshing lack of a central romance. We have a strong heroine whose goal is completely unrelated to romantic love. This girl has bigger things on her mind than boys. This movie is primarily a two-hander as we witness Moana and Maui interact, grow, and change, much to our amusement. I can't recall another Disney film that had such a small focus on a limited number of characters and this decision pays dividends. While only 103 minutes, we really get to understand these two people and what drives them and what fears keep them from accomplishing their goals. Moana is a terrific character. She's pulled in different directions from her sense of duty and her own ambition to explore the world outside. She's feisty but still clumsy, empowered but still filled with doubts, independent but considerate of others. After all, her plight is to save her people. Pairing this character with Maui provides plenty of narrative sparks, especially as Maui is forced against his will by the power of the ocean to assist in doing right with Moana. Newcomer Cravhalo makes quite a debut. Her singing voice is flawless but I was highly impressed with the emotion she was able to convey through her vocal performance. She makes you care deeply for her character because she brings such life to the lively Moana. Johnson's boundless charisma is amazingly channeled into the character thanks to the animators. Johnson isn't lazily sleepwalking in his performance like so many celebrity vocal actors. Moana and Maui both intrinsically have their identities tied up in their sense of obligation to others, and this provides a common area for them to bond and also to stretch as characters. Theirs is a dual journey of self-discovery and defining themselves on their own terms. The actions of others and their demands do not have to define you. The charged interplay between Moana and Maui, two characters at cross-purpose in their goals, is a scenario that places them in our focus and endears them to us as they deepen. The fantasy setting also allows for plenty of fun and imaginative diversions and turns. The mingling of man and god with the whimsical and weird magical creatures made me think of the great Miyazaki (Spirited Away, Princess Mononoke) as a direct creative influence. There is a delightfully wonky sequence with a wild band of pirates that are best described as living coconuts from a Mad Max film. Their floating ships are patched together with ramshackle planks and pieces and a thunderous drumbeat for pacing. All that's missing is a coconut with a flaming guitar. It's such a visually delightful and daffy segment and it doesn't wear out its welcome. Maui's living tattoos (traditional hand-drawn animation) provide further personality and serve as his conscience. The underwater land of monsters is also begging for further exploration. Maui's shape-shifting powers are brought to the forefront during key battles with the giant lava monster Te Ka. Even when the movie isn't dazzling you with a song or its character development it can pull off inventive and visually gorgeous world building that sucks you in. While not hitting the earworm heights of Frozen's best, the songs in Moana are uniformly good and, even better, advance the story and give additional light to characters. Lin Manuel-Miranda is still a musical genius and imbues the sounds of Moana with Polynesian culture and history, lots of powerful percussion and harmonies. Moana's personal theme of "How Far I'll Go" has some wonderful melodic turns especially as it builds, and it's a fine musical throughline for her journey with each repetition building in emotion. I enjoyed the Hamilton-style rhyming flourishes as well as the extended rap interlude on The Rock's jaunty signature song, "You're Welcome." That tune is quite playful with a strong hook and it boasts all Maui's accomplishments and his hefty ego, but it also has a narrative purpose. Maui uses the song to distract Moana and steal her boat. My current favorite might actually be the outlier on the soundtrack; "Shiny" is an absurdly enjoyable Bowie-esque glam rock number from a giant crustacean admiring his fascination for all things shiny. Jermaine Clement (Flight of the Conchords, What We Do in the Shadows) superbly sinks his teeth into such a theatrical and comical villain. It's a short scene but Clemente's impression is irresistible. His song is also a strategy, allowing Maui to steal back his fishhook while the opportunity for gloating distracts the giant crab. The songs are a reflection of the characters singing them and serve narrative purpose, which is a rarity in big-screen musicals. The musical score by Mark Mancini beautifully matches Manuel-Miranda's songwriting themes and provides a lush sonic backdrop. This has been an absolute dream of a year for animated movies. From Zootopia to Kubo and the Two Strings to the heartwarming indie Life Animated, the movies have enchanted and entertained and also dared to challenge, uplift, and engage an audience. These are more than mere babysitting tools for exhausted parents to put on; these movies are some of the best of the year, animated or live-action. For my tastes, Moana is just a touch below Zootopia due to the latter's complexly inventive world and articulate social commentary. However, Moana is a lavishly produced adventure with great characters, more than a few pleasant surprises, and an emotional core that becomes more evident as the two characters we've grown attached to come full circle. The visuals are lively and colorful, the plotting is carefully paced and comes to a meaty conclusion, and the emphasis is on the relationship of the two main characters and their function. There was nary a moment during Moana where I wasn't smiling from ear to ear. Do yourself a favor and savor this second Disney Renaissance because since 2012's Wreck-It Ralph the Mouse House has been on a near unprecedented creative tear. This is starting to get to peak Pixar levels, folks. What can I say except... you're welcome? Nate's Grade: A-
Nate Zoebl
Super Reviewer
½
Disney's Moana is a tranquil envisioning of adventure, humor and whole-hearted family-fun. The film's rhythmic tunes and dynamics in visuals and narrative solidifies the originality and ambition that's just as innovative, if not more, as recent releases under the wing of Walt Disney. 4.5/5
Eugene Bernabe
Super Reviewer
Moana Quotes
There are no approved quotes yet for this movie.
Discussion Forum
Discuss Moana on our Movie forum!