Noriega: God's Favorite
(2000)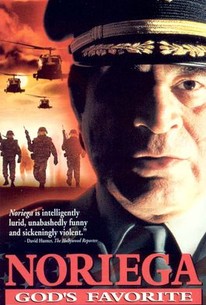 Movie Info
Bob Hoskins stars as Manuel "Tony" Noriega, former leader of Panama, in this biographical comedy-drama about his improbable rise to power and inglorious fall. Abandoned by his parents at an early age, Noriega grew up fending for himself among the desperate poverty of Panama's slums. In search of a career, he joined the Panamanian Army, and rose through the ranks to become a powerful military leader. In time, Noriega became Panama's dictator, but the widespread corruption of his administration, his inability to tell the truth, and over-reliance on political assassination caused him to lose the support of the people, especially after the mutilated corpse Hugo Spadafora (Ivo Cutzardia), his chief political rival, is discovered in the jungle. Noriega also loses the support of Cuban leader Fidel Castro (Michael Sorich) when he enters into an agreement with a drug ring to refine cocaine in Panama, but then buckles under pressure from the U.S. government and destroys the processing plant. The CIA, who once regarded Noriega as a friendly ally in Latin America, have turned their back on him, and Vice President George Bush starts acting as though they never met. Even Noriega's wife Felicidad (Denise Blasor) and mistress Vicki (Rosa Blasi) seem to have given up on him. In a bid to save face, Noriega hires a public relations man (Richard Masur), who suggests that holding open elections might be a good idea. Noriega agrees, but then changes his mind when it becomes obvious that his candidates will loose. Beset by enemies on all sides and trying to flee American troops, Noriega hides out in the Vatican Embassy, where he confesses his sins as U.S. soldiers try to drive him out with loud music. Noriega: God's Favorite was produced for the Showtime premium cable network and directed by Roger Spottiswoode, who also helmed the James Bond adventure Tomorrow Never Dies.
Audience Reviews
There are no featured reviews for Noriega: God's Favorite at this time.
Noriega: God's Favorite Quotes
There are no approved quotes yet for this movie.