Octopussy
(1983)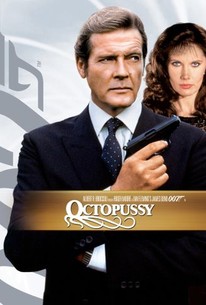 Movie Info
This (13th) time around, 007 (once again played by Roger Moore) receives the usual call to come and visit M when another agent drops off a fake Faberge jeweled egg at the British embassy in East Berlin and is later killed at a traveling circus. Suspicions mount when the assistant manager of the circus Kamal (Louis Jourdan), outbids Bond for the real Faberge piece at Sotheby's. Bond follows Kamal to India where the superspy thwarts many an ingenious attack and encounters the antiheroine of the title (Maud Adams), an international smuggler who runs the circus as a cover for her illegal operations. It does not take long to figure out that Orlov (Steven Berkoff), a decidedly rank Russian general is planning to raise enough money with the fake Faberges to detonate a nuclear bomb in Europe and then defeat NATO forces once and for all in conventional warfare. John Glen returns again to handle directing duties, the second of five Bond films he lensed.
People Who Like this movie also like
News & Interviews for Octopussy
Critic Reviews for Octopussy
Audience Reviews for Octopussy
What has happened to the James Bond franchise? Sure, Roger Moore has had his ups and downs, but it seems as though he has almost lost his touch as to what makes the Bond character so great! This time, auctions, the circus, and train chases are all present and it feels like the most distant bond film of the entire franchise. Again, the cast and action pieces are what sell these films, but when you do very little to make me care about the characters and come up extremely short on the action, it is quite the bore. I will admit, there is a train sequence in the beginning of the third act that had me on the edge of my seat, until I realize I was watching a film that I was not interested in. Overall, this is a very subpar bond flick. I do not like it.
"Octopussy", the 13th James Bond movie, is Roger Moore's best 007 picture. This is a very entertaining adventure with some excellent performances from the cast. "Octopussy" takes 007 to India and Germany were he gets in way over his head trying to avenge the death of a fellow agent by stopping some seriously nasty jewelry smugglers who were involved in the death of agent 009. Moore gives his best performance as Bond, and he's surrounded by a terrific cast. Maud Adams (Octopussy) and Kristina Wayborn (Magda) are wonderful as the Bond women; Louis Jourdan (Kamal Khan) and Kabir Bedi (Gobinda) are excellent as two of the main villains. All the other actors in "Octopussy" are cast to perfection except one: Steven Berkoff goes way over-the-top in his portrayl of the third villain, Soviet General Orlov. This character is just too silly here, and I'd wish the writers would have taken this character out. His prescene mars what would have made this a perfect film. However, this character doesn't appear in the film as much as the other two villains and that's good. Berkoff played a much better villain in "Beverly Hills Cop", which came out a year-and-a-half after this. Here, he overacts. Aside from that, "Octopussy" is one of the best James Bond movies ever made. And, Desmond Llewelyn gives one of his funniest performances here as gadgetmeister Q. Lots and lots of fun. 4 Stars 2-16-14
Bruce Bruce
Super Reviewer
½
Entry 13 in the Bond franchise (and Moore's second to last portrayal of the character) is easily one of the weaker and sillier ones. And to think they did so well in the last one to tone things down, only to once again get campy. This time out Bond gets embroiled in a plot that mixes jewelry smuggling, forgery, a pro-femme cult lead by the titular Octopussy (which has a major thing for octopuses), and a plan to end detente and take down all NATO forces/countries. There's a lot going on in this, and, while I can't fault them for ambition, it gets rather muddled and hard to follow at times. This one is also fairly long, and really feels that way too, featuring several scenes that often go on longer than needed. There's also a number of silly cheesy moments that did nothing for me, not least of which includes Bond hiding in both gorilla and clown costumes, and an eye rolling nod to Tarzan. There are some good sequences though, like a fun train fight and the climactic battle on a plane, but overall, this is a largely dull affair. Moore wanted this to be his last Bond film, and you can tell as he looks bored, but he was roped into one more after this, and that one is almost even more uninspired than this, though not as silly. This one does have its moments, but in the end proves to be really kinda dumb and forgettable.
Chris Weber
Super Reviewer
Octopussy Quotes
| | |
| --- | --- |
| "M": | 007 You Had no business bidding on that egg! and what would you have done if you got it? |
| James Bond: | l would have claimed it was a fake, sir, and not paid. |
| "M": | Not Paid? |
| James Bond: | Here's the original. l switched it with the fake during the auction. |
| "M": | Good God! And what happens when the buyer discovers that? |
| James Bond: | Well, he complains. lf he's legitimate. |
| "M": | well |
| James Bond: | l don't think he will complain. |
| | |
| --- | --- |
| Kamal: | You have a nasty habit of surviving. |
| James Bond: | You know what they say about the fittest. |