Operation Crossbow
(1965)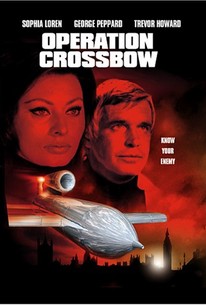 Operation Crossbow Photos
Movie Info
Featuring an all-star cast, this WW II adventure drama tells the story of a group of Allied operatives who are sent on a highly dangerous mission to destroy a Nazi installation, where long-range rockets are being developed that could tip the balance of power in favour of the German forces.
Critic Reviews for Operation Crossbow
Audience Reviews for Operation Crossbow
A real good WWII espionage film. With a host of actors and actress. Sophia Loren plays a very short part in this movie, about the shortest I've ever seen her play. The Germans are developing the V-1 Bomber and The V-2 Rocket Missile. The British must get within the German factories to provide bombing information or lost the war. Very interesting story line, with good actual footage now and then. The V-1 know as the flying Bomb a pilot less aircraft, The first V-1 was launched at London on 13 June 1944, one week after (and prompted by) the successful Allied landing in Europe. At its peak, over a hundred V-1s a day were fired at southeast England, 9,521 in total, decreasing in number as sites were overrun until October 1944, when the last V-1 site in range of Britain was overrun by Allied forces. This caused the remaining V-1s to be directed at the port of Antwerp and other targets in Belgium, with 2,448 V-1s being launched. The attacks stopped when the last site was overrun on 29 March 1945. In total, the V-1 attacks caused 22,892 casualties (almost entirely civilians). The V-2 Over 3,000 V-2s were launched as military rockets by the German Wehrmacht against Allied targets during the war, mostly London and later Antwerp. The attacks resulted in the death of an estimated 7,250 military personnel and civilians[, while 12,000 forced laborers were killed at the production of the weapons. This movie is outstanding and gets a 4 1/2 star rating.
Bruce Bruce
Super Reviewer
½
This highly underrated war film is very similar to the guns of Navarone mode as far as the story is concerened. A group of allied soldiers are on a near impossible mission to destroy a german weapons base that is launching the dreaded V1 and V2 rockets to London. However, in many ways this film is better than the guns of navarone which was more in the popular mode of filmmaking rather than showing the real harsh realities of warfare. That is far better portrayed in this film. From the neccessary killing of a friendly Sophia Loren (just to keep the secrecy of the mission intact) right down to the end where none survive the mission although they accomplish their end. Operation Crossbow is a terrific highly underrated war movie. Story: B+ Acting: B+ Direction: A Visuals: C+ Overall: B+ ***1/2 out of 4 stars
Matthew Rodrigues
Super Reviewer
Operation Crossbow Quotes
There are no approved quotes yet for this movie.
Discussion Forum
Discuss Operation Crossbow on our Movie forum!