Phineas and Ferb the Movie: Across the 2nd Dimension
(2011)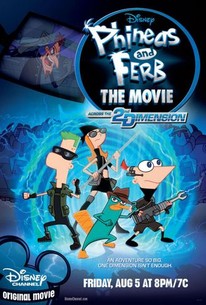 AUDIENCE SCORE
Critic Consensus: No consensus yet.
Phineas and Ferb the Movie: Across the 2nd Dimension Photos
Movie Info
Disney TV scored a big hit in 2007, with Phineas and Ferb, the story of two mismatched stepbrothers who share a passion for fantastic adventures and a talent for creating high tech devices. Phineas Flynn is the American chatterbox; Ferb Fletcher is British and taciturn. The television movie Across the 2nd Dimension takes their antics further afield--and spoofs the mania for 3-D. When their giant shuttlecock collides with a spy plane piloted by their pet Perry the Platypus, Phineas and Ferb crash land in the laboratory of Dr. Doofenshmirtz. With typical enthusiasm (and blithe unawareness), the boys help the evil scientist build an "Otherdimensionator" that transports them to an alternate world. As the complications multiply, Perry is forced to reveal that he's not just a pet who grinds his teeth: he's Agent P, part of a cadre dedicated to fighting Doofenshmirtz's schemes. Eventually things get sorted out with the help of the alternate versions of Phineas, Ferb, and their sister Candace. Across the 2nd Dimension is most engaging when it plays like an extended episode of the series, with plenty of humor, off-beat songs, and pop-culture references: Doofenshmirtz and his alternate counterpart perform a number about finally finding a partner as the Blues Brothers, the Lone Ranger and Tonto, and Lucy and Ethel in the candy factory. As is often the case with TV cartoons that morph into features (Hey Arnold, Doug), things occasionally get too big--the swarms of CG robots the alternate Doofenshmirtz dispatches really don't add anything to the story. But the filmmakers generally succeed in walking a fine line, remaining smart without becoming smart alecks. Across the 2nd Dimension will delight Phineas and Ferb fans of all ages.
Critic Reviews for Phineas and Ferb the Movie: Across the 2nd Dimension
Audience Reviews for Phineas and Ferb the Movie: Across the 2nd Dimension
Animation at it's worst. By that I mean that the actual film is what's wrong here. The actual animation is good for this time period but I never rate an animated movie by the animation I rate it just like any other film. This was also just for kids. I find it hard to believe that any adult would like this or even be able to sit through this. It was very painful for me to sit through this. There was so much stuff that wasn't necessary and that was just stupid. Don't forget how fast pace it was. If you blinked you missed a huge part of the plot. Everything was just thrown at you it just wasn't fun. If you'r a fan of the show then stick to watching that it's way better.
Eduardo Tobias
Super Reviewer
Until this movie I never watched Phineas and Ferb's cartoons and I wasn't familiar with the characters. Walt Disney took a risk making a movie about these two brothers and their platypus pet... or maybe it wasn't a risk because they knew that they already have a good number of fans!? [img]http://upload.wikimedia.org/wikipedia/en/thumb/c/c5/Phineas_and_Ferb_Across_the_2nd_Dimension_poster.jpg/220px-Phineas_and_Ferb_Across_the_2nd_Dimension_poster.jpg[/img] No CGI animated movies are getting rare these days and this one wasn't bad. It was made for older children and it was a typical children adventure with lots of action - for boys and girls. I won't be spending too much time explaining it, because it is not my type of movie - just to say that kids will be glued for the TV for an hour and a half and that is the reason why parents should get it... and they can do their own things. :-)
Strictly for die-hard fans only
Bram Sterling
Super Reviewer
Phineas and Ferb the Movie: Across the 2nd Dimension Quotes
| | |
| --- | --- |
| Isabella: | What'cha doin' |
| Isabella: | What'cha doin'? |
| | |
| --- | --- |
| Candace: | Since when was Isabella suddenly fashionable? |
| Isabella: | What do you mean suddenly? |
| | |
| --- | --- |
| Phineas Flynn: | This entire time you've been a secret agent?! |
| | |
| --- | --- |
| Phineas Flynn: | I'm-I'm sorry. I'm just having trouble processing this right now. (Perry gives Phineas a pamphlet) |
| Phineas Flynn: | I'm-I'm sorry. I'm just having trouble processing this right now. [Perry gives Phineas a pamphlet] |
| Phineas Flynn: | (reading) "So, you've discovered your pet is a secret agent"-I don't want your pamphlet! (tosses pamphlet away) |
| Phineas Flynn: | [reading] So, you've discovered your pet is a secret agent-I don't want your pamphlet! (tosses pamphlet away) |