Phone (Pon)
(2002)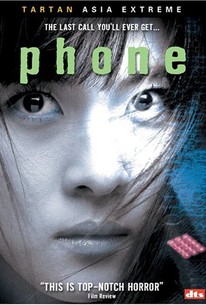 Movie Info
Ahn Byeong-ju's Pon (Phone) is a psychological horror film. Ha Ji-weon portrays Ji-weon, an investigative reporter who is receiving unsettling calls on her cellular phone. Ji-weon's decision to stay with friends for a while leads to the friends' child Yeong-ju (Eun Seo-woo) being traumatized after the girl accidentally answers Ji-weon's phone. Eventually, it is discovered that the preceding owners of that cell phone's number have died. A missing teenager, a secret from the past, and some very disturbing behavior from Yeong-ju all play a part in the final unraveling of the plot. ~ Perry Seibert, Rovi
Critic Reviews for Phone (Pon)
Audience Reviews for Phone (Pon)
A journalist hiding out from a paedophile ring she exposed changes her number and begins receiving disturbing calls that seem to affect her young neice. Phone is basically Ringu with a mobile, and that's all you really need to know. It lifts elements directly from that film, Ju On and Dark Water and does little to add to the mixture in its own right. Girl gets phone call, she tentatively answers it, there's screaming, a ghostly apparition of a girl appears in mirrors yadda yadda yadda. There is literally NOTHING here you won't have seen before. The direction is clumsy and patronizing and I was frankly bored for the majority of it. It did pique my interest a little for the final scenes which (finally) explained what happened to Teen Ghost, but some of the absurd plot contrivances in getting there were just too hard to swallow. I was impressed by the performance of the young girl, but as a whole its just J horror by numbers.
This is an outstanding Film. As with all Asia Horror US writers have a lot to learn from our fellow film makers in the west. No doubt someone will copy this korean made film that falls along with Ju-On and The Ring. Intense thriller is more like it, but ending gets a little creepy. A good rainy night thunder storm film. Seems everyone with the last 4 digets 6644 of this phone number is dying, find out why. 4 Stars
Bruce Bruce
Super Reviewer
Possibly the best part of this film was the last 10 minutes. It?s a watchable story which was not as predicatble as I had anticipated, but a little drawn out.
Lady D'arbanville
Super Reviewer
Phone (Pon) Quotes
There are no approved quotes yet for this movie.