Pick-up
(1975)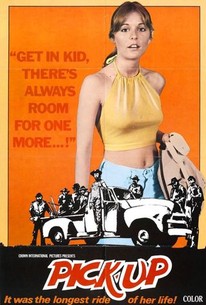 AUDIENCE SCORE
Critic Consensus: No consensus yet.
Movie Info
In the golden days of independent film distributors, companies would often try to disguise experimental fare as traditional drive-in programmers. Pick-Up is an interesting example of this technique: the ad campaign marketed it as southern exploitation fare, complete with a poster depicting a nubile ingénue being menaced by a gang of truck-driving hicks. Viewers who actually saw the film would come to realize the imagery on the poster art only accounted for a few minutes of the film's running time and that the film was a much different proposition than its ad campaign made it seem. Pickup is actually an artsy venture that depicts two young women -- fun-loving and self-styled mystic meeting up with, a young man who is driving a luxury R.V. across the state for an automotive delivery service. When a storm-related detour leaves the trio stranded in the swamp, they decide to indulge in nature -- and each other. Each relives a past trauma that drove them to leave home and the story ends with a very "1970's" surprise ending. Pick-Up was the only feature from ad exec-turned-filmmaker Bernard Hirschenson, who has had a long career making documentaries and television commercials.
Critic Reviews for Pick-up
There are no critic reviews yet for Pick-up. Keep checking Rotten Tomatoes for updates!
Audience Reviews for Pick-up
Plain And Simple This Movie Sucked, Must say did enjoy the Small Nude Girl on the Bus, But Pass it up, when's the last time anyone got lost in the Eerglades of Florida and Lived, let alone had sex up in a tree, Please
Bruce Bruce
Super Reviewer
Strangely this movie got released as part of a "Grindhouse Double Feature" DVD ( along with a movie called " The Teacher"). Aside from the abundant nudity and softcore groping, it is not really what I expected. Rather than being sleazy and gritty like most old grindhouse movies, it's kind of arty, a little pretentious, and mostly just plain weird. It doesn't really fit in with stuff like "Hitchhike to Hell" or "The Hitchhikers" or the more exploitative youth-oriented films of the era. A guy driving a tricked-out camper van and making some kind of mysterious delivery picks up two hippie chicks. One of them is a nymphomaniac, so of course they immediately have sex. The other is revealed to be suffering from religious delusions as the result of having been molested by a priest (a straight priest?--now I've heard everything!). After the threesome break down in the Florida Everglades the secrets of the girls begin to be revealed a little with flashbacks (between the sex scenes), but the movie also gets exponentially weirder. One plus about the movie is the two girls are very pretty and not like the sleazy skanks that were often in these kind of movies. The cinematography is also very impressive and professional, and for a "grindhouse" movie they sure used a good looking, wide-screen print. The low-budget is pretty obvious by a lack of sync sound in a lot of places (which might be the reason for the kind of nebulous plot and character development). With its emphasis on the visuals at the expense of plot and acting, this almost seems like a foreign movie of that era--like maybe Jean Rollin was slumming in the Florida Everglades. All in all, I guess I'd recommend it, especially if you're looking for a weird, arty hippie movie, but it seems pretty mis-marketed as a "grindhouse" flick.
David Ladd
Super Reviewer
Pick-up Quotes
There are no approved quotes yet for this movie.