Pulp Fiction
(1994)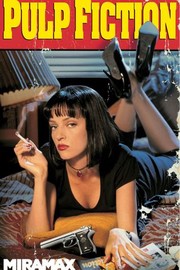 TOMATOMETER
AUDIENCE SCORE
Critic Consensus: One of the most influential films of the 1990s, Pulp Fiction is a delirious post-modern mix of neo-noir thrills, pitch-black humor, and pop-culture touchstones.
Pulp Fiction Trailers & Photos
Movie Info
Outrageously violent, time-twisting, and in love with language, Pulp Fiction was widely considered the most influential American movie of the 1990s. Director and co-screenwriter Quentin Tarantino synthesized such seemingly disparate traditions as the syncopated language of David Mamet; the serious violence of American gangster movies, crime movies, and films noirs mixed up with the wacky violence of cartoons, video games, and Japanese animation; and the fragmented story-telling structures of such experimental classics as Citizen Kane, Rashomon, and La jetée. The Oscar-winning script by Tarantino and Roger Avary intertwines three stories, featuring Samuel L. Jackson and John Travolta, in the role that single-handedly reignited his career, as hit men who have philosophical interchanges on such topics as the French names for American fast food products; Bruce Willis as a boxer out of a 1940s B-movie; and such other stalwarts as Harvey Keitel, Tim Roth, Christopher Walken, Eric Stoltz, Ving Rhames, and Uma Thurman, whose dance sequence with Travolta proved an instant classic. ~ Leo Charney, Rovi
more
Cast
News & Interviews for Pulp Fiction
Critic Reviews for Pulp Fiction
Audience Reviews for Pulp Fiction
Pulp Fiction skillfully blends the stories of Jules and Vincent, a pair of wise cracking hit-men and their stash of unidentified merchandise, Marsellus Wallace the criminal kingpin they work for, his coke snorting wife Mia, scheming prizefighter Butch Coolidge who double crosses him and a pair of small-time hold up artists. Upon the success of Reservoir Dogs, opinion was heavily divided as to Quentin's merit as a film maker, many condemning him as nothing more than a plagiarist passing off the ideas of better film makers as his own. Pulp Fiction silenced these critics and scooped the Palm d'Or at Cannes and by rights should have won best picture at the Oscars of that year. As you can probably tell, there is enough material here to make three films, but Tarantino's brilliantly economical script (hard) boils the constituent elements into a brilliant homage to exploitation flicks through the decades. The disjointed timeline works magnificently and the film constantly surprises on first viewing and consistently entertains thereafter. Many speak of memorable scenes and memorable lines from certain films, but EVERY scene, EVERY character and nearly every line in this film has become iconic. It boasts an unequalled ensemble cast of the coolest of the cool actors, a similarly iconic soundtrack and it captured the imagination of an entire generation. This film is, and always will be, entrenched in my top ten favourite films of all time.
½
Groundbreaking monologue, fantastic blend of violence & humor, as well as a stylized vision builds this film to be one of the best motion pictures of its decade. Pulp Fiction is arguably one the greatest films by Quentin Tarantino and the history of cinema. 4.5/5
Pulp Fiction Quotes
Jules: English mother fucker, do you speak it?
Mia Wallace: Why do we feel it's necessary to yak about bullshit in order to be comfortable?
Vincent Vega: I don't know. That's a good question.
Mia Wallace: That's when you know you've found somebody special. When you can just shut the fuck up for a minute and comfortably enjoy the silence.
Mia Wallace: I said Goddamn!
Jules Winnfield: Does he look like a bitch?
Brett: No!
Jules Winnfield: Then why are you trying to fuck him like a bitch?
Discussion Forum
Discuss Pulp Fiction on our Movie forum!
News & Features