Pure
(2002)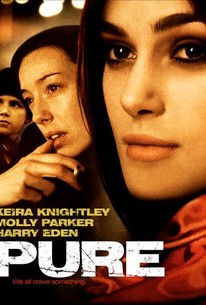 AUDIENCE SCORE
Critic Consensus: No consensus yet.
Movie Info
After forays into period war drama (Regeneration) and globe-trotting bohemia (Hideous Kinky), Scottish director Gillies MacKinnon returns to social realist melodrama with this tale of a ten-year-old desperately trying to parent his heroin-addicted mother. Pure revolves around Paul (Harry Eden), a young boy who finds his life torn apart after the untimely demise of his father. Despondent in the wake of her husband's death, Paul's mother, Mel (Molly Parker), turns to a less-than-reputable old friend for consolation: Lenny (David Wenham), a long-time acquaintance of her husband's who also happens to be the main drug dealer in their West London neighborhood. Lenny divides his time between Mel and his other customers, including Louise (Keira Knightley), a pregnant, crack-addicted waitress. Paul is so accustomed to his mother's addiction that it doesn't occur to him that it's a problem, but as Mel's behavior grows more and more unstable -- and as local police start investigating the area drug scene -- Paul realizes that it's his responsibility to take care of himself and his younger brother. Pure premiered at the 2002 Toronto Film Festival. ~ Michael Hastings, Rovi
Critic Reviews for Pure
All Critics (3) | Fresh (1) | Rotten (2)
These are all problem people, but they bring on compassion fatigue. The feelgood conclusion he tags on just isn't earned by the oversimplified resolution of the family's troubles.
MacKinnon's too timid to explore this in any depth. Pure is basically a morality tale, which sends out the Harry Potter-ish message that pluck, rather than luck, saves the day.
Audience Reviews for Pure
½
Cast: Harry Eden, Molly Parker, Keira Knightley, Vinnie Hunter, David Wenham, Nitin Ganatra, Levi Hayes, Rupert Procter, Bronson Webb, Kate Ashfield, Marsha Thomason, Tyler Smart, Geraldine McEwan, Gary Lewis Director: Gillies Mackinnon Summary: In the wake of his father's untimely death, 10-year-old Paul (Harry Eden) must become the man of the house, caring for his younger brother and sick mother Mel (Molly Parker). When bullies taunt Paul by calling his mother a junkie, the boy soon realizes that the medicine he has been preparing for her is really heroin. Keira Knightley appears as a crack-addicted waitress in this bleak family drama set in West London. My Thoughts: "It's very rare when you get a film that is so spot on with addiction and the tribulations it causes not only the person with the addiction, but also for their families. The little boy Harry Eden was very good in this film. A great young talent to take on such a harrowing character. Some of the scenes that take place are a bit shocking. For instance, when Paul is preparing his mother's "medicine", at least that is what he believes it to be. Another is when Mel is on the bus with her two son's and her friends daughter. I was shocked and furious at what Mel does, but also relieved a bit. I won't say what happens, but for those who have seen the film you will understand. The film is gritty and raw and leaves nothing off the table when showing the honest glimpse in the life of an addict and a little boy desperately trying to hold whats left of his family together. All the performances are fantastic. This is one to see."
♥˩ƳИИ ƜѲѲƉƧ♥
Super Reviewer
½
Pure is a dark and gritty drama about drug addiction and the bonds of family. The story surrounds a 10-year-old boy who's struggling to keep his family together and to help is mother beat her drug addiction. Molly Parker and Keira Knightley both give solid performance, but it's Harry Eden's performance that carries the film. Eden gives a truly compelling and moving performance that's heartbreaking at time as his character suffers the abuses of his mother, who's suffering from withdrawal. The film has some storytelling issues that cause the film to drag and wander a bit, which breaks up the momentum. Pure presents an interesting view of a family's battle with drug addiction, but it has some problems staying on message.
Dann Michalski
Super Reviewer
Some people say the film was too depressing, with no redemption. But maybe some films don't need complete, expected solutions. I feel that the ending to Pure was not altogether hopeless or fatalistic. In showing that there has been some triumph or progress during the course of the film, hopes are validated that Paul's life can continue to improve beyond the film.

This is a must see film for anyone that likes to be emotionally touched whilst watching a movie..
Pure Quotes
There are no approved quotes yet for this movie.