Robert Ludlum's Covert One: The Hades Factor
(2006)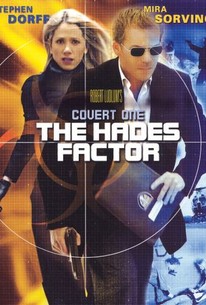 AUDIENCE SCORE
Critic Consensus: No consensus yet.
Robert Ludlum's Covert One: The Hades Factor Photos
Movie Info
An unknown virus has emerged, and with time running out for all of humanity, it's up to disease expert and former secret agent Colonel Jonathan Smith (Stephen Dorff) to isolate the source of the outbreak and expose the culprit responsible in an action-packed thriller penned by Bourne Identity author Robert Ludlum. Colonel Smith is not only one of the country's best-known disease experts, he was also a top agent in the highly classified Covert One agency that reports directly to the president of the United States (Academy Award-winner Anjelica Huston). Now, as a killer virus gives way to a far-reaching conspiracy which points to corruption in the highest ranks, Colonel Smith is charged with the task of tracing the origins of the super-bug to its shocking source. In the process of saving the world, he's about to find out just how far some people are willing to go to achieve ultimate power. Blair Underwood and Academy Award-winning actress Mira Sorvino co-star.
Critic Reviews for Robert Ludlum's Covert One: The Hades Factor
All Critics (1) | Fresh (0) | Rotten (1) | DVD (1)
I doubt even the hardcore Ludlum enthusiasts will find much to love here; I'm told this mini-series deviates pretty wildly from the source material -- and not in a particularly good way.
Audience Reviews for Robert Ludlum's Covert One: The Hades Factor
½
Based on a series of successful novels, CBS decided to turn the Covert One series into a mini-series, and while they got some big names to be in this three hour epic, the story just doesn't transfer well to film. Not every story can be condensed down and still keep the story believable and that's what happens here. Things move so quickly with one twist coming right on top another, making the film unbelievably confusing. The story begins on an army base, when a strange virus, thought to have been destroyed in the Middle East, starts killing people. The FBI, CIA, and mysterious group Covert One investigate and try to stop what they see as a terrorist attack. As I said there are so many different elements involved in this story and while a well placed twist in the story can help a film, too many just confuse things. Half way through this film it was impossible to tell who was working for whom, and what different groups were actually trying to accomplish. Stephen Dorff, AKA Mr. Blue E-Cig, stars and while he's not really known as an action guy, does a really good job. He's paired with Mira Sorvino who is one of my least favorite actresses. There is no doubting the fact that she's beautiful and somehow won an Academy Award, but I've always found her to be unbelievable and far to cold to play most of the roles she's been in. There are also some nice cameos from some people I haven't seen in a while, which could have been a big help to the film, if they weren't also part of the constant twists and turns of the story. I don't know how the novels were, but as far as the film goes, The Hades Factory is extremely fast paced and far too confusing to be worth watching. They had three hours to really engage and entrench the audience in the story, instead they blindfold you and put you on a roller coaster. The story is all over the place, the performances are mixed, and in the end, you'll just be scratching your head.
Todd Smith
Super Reviewer
Robert Ludlum's Covert One: The Hades Factor Quotes
There are no approved quotes yet for this movie.