Sharktopus
(2010)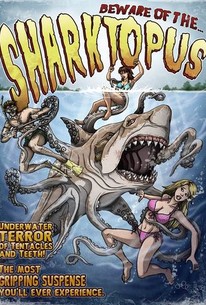 Movie Info
An eight-tentacled nightmare hybrid of shark and octopus, "S-11" was created by genetic scientist Nathan Sands as the U.S. Navy's next super-weapon. But when its control implants are damaged during a training experiment off the Mexican coast, the beast escapes to Puerto Vallarta to sample the local fare -- bikini babes, jet-skiers, and spring-breakers. With the ocean terror now out of control and seemingly invincible, a ragtag group -- comprised of a hotshot mercenary, an investigative reporter, and Sand's biomechanical engineer daughter -- have come together to stop the unholy beast from turning a seaside tourist resort into the ultimate human buffet.
Critic Reviews for Sharktopus
Audience Reviews for Sharktopus
It's one of SyFy's better CGI-palooza Creature Features, but that doesn't mean it's *good*.
If you are going to make rubbish, give us at least something to go with. Laughs..good special effects..maybe playing with the lighting. If you give us something like Sharktopus...don't bother with it.
John Ballantine
Super Reviewer
½
It sounds like something used in a sitcom for a cheap joke. A film so absurd, only a genius would dare suggest it. Sharktopus. Half Shark, Half Octopus. You know already if this is for you. Which is why it's so beautiful. Seeing the set-up for jokes such as a woman going bungee jumping is just great. The brilliance comes from anticipating exactly what is going to happen. This film also has fairly decent CGI, but proves that good effects are not necessary. The film is propelled along by great action sequences and the kind of dialog that should be winning awards. "You've released an 8-legged man eating great white into the wild." "A minor setback!" Eric Roberts does great in his role, and plays it straight but hammy. I sat in awe at some of the scenes and the characters that inhabited the world. They're all here and they are all brilliant. Sharktopus is a great way to spend any evening.
Luke Baldock
Super Reviewer
Sharktopus Quotes
There are no approved quotes yet for this movie.