Shit Year
(2011)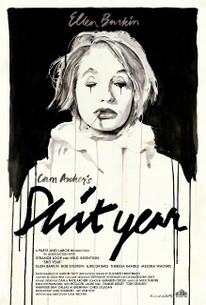 Movie Info
Renowned actress Colleen West (Ellen Barkin) abandons her successful career for a secluded life in the hills. But the quiet and peace of mind she longed for is disrupted by the noisy construction of neighboring housing developments. Before long, Colleen discovers that she really can't stand herself now that she has given up the only thing that she has ever truly been passionate about. Haunted by loneliness and past desires, Colleen begins to feel as if she has lived her life through the characters she has played on stage and screen. Reality becomes inseparable from Colleen's unhinged obsessions in a hallucinatory struggle to accept her own vulnerability and reclaim herself. -- (C) Official Site
Critic Reviews for Shit Year
Audience Reviews for Shit Year
"Shit Year" wins the award for best movie title of the year but definitely not best movie of the year. It is a highly avant-garde hand-made film shot on black-and-white video. Ellen Barkin plays a famous screen actress around age 60 just realizing how alone she is. She has just had a brief affair with a 22-year-old actor who had co-starred with her in a play, and the affair has left her in a funk. It's not clear whether she has fallen in love with him or just cannot stomach being single anymore. Writer/director Cam Archer, who is not particularly deep, seems to have written the 22-year-old into the script just so he could film a nearly naked 22-year-old boy. And he does so with all the depth of a Calvin Klein ad. The attention to the main character is fairly deep, but not enough to trigger much caring on the part of the audience. I was mostly bored while watching "Shit Year." The avant-garde techniques weren't that interesting either. The film is more like theater than cinema. The actors step in front of the camera the way an actor would step onto a bare stage to do a scene. They perform what are basically monologues to give you a sense of what the character might be going through. Nothing is meant to be realistic -- more like re-enactment of pivotal moments in someone's life, where the audience understands that it is seeing highly stylized, fragmentary re-enactments, not the actual occurrences. This distancing effect and the general use of techniques from stage drama and art video I found moderately interesting. But for this kind of thing to work in cinema, it has to take one's breath away. The audience also has to care deeply about something. None of this happened in "Shit Year." Barkin gives a good performance. (When is Barkin not fabulous?) But unfortunately she's lost in a movie that never takes off.
William Dunmyer
Super Reviewer
Shit Year Quotes
There are no approved quotes yet for this movie.
Discussion Forum
Discuss Shit Year on our Movie forum!