Sinister 2
(2015)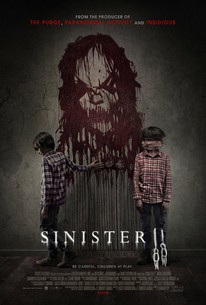 TOMATOMETER
AUDIENCE SCORE
Critic Consensus: Sinister 2 has a few ingredients that will be familiar to fans of the original; unfortunately, in this slapdash second installment, none of them are scary anymore.
Movie Info
The sequel to the 2012 sleeper hit horror movie. In the aftermath of the shocking events in "Sinister," a protective mother (Shannyn Sossamon of "Wayward Pines") and her 9-year-old twin sons (real-life twins Robert and Dartanian Sloan) find themselves in a rural house marked for death. (C) Focus
News & Interviews for Sinister 2
Critic Reviews for Sinister 2
Audience Reviews for Sinister 2
A disappointing sequel, Sinister 2 lacks the intensity and suspense that made the original so compelling. After the death of the Oswalt family a former deputy turned private investigator attempts to break Bughuul's cycle by burning down the houses of its victims to prevent him from cultivating new ones, but when he discovers a mother (played by Shannyn Sossamon) and her two sons living at a farmhouse that was one of the crime scenes he tries to find a way to save them before Bughuul can get to them. The film makes the classic mistake of over-explaining by showing how children are corrupted and turned by Bughuul (which is better left ambiguous). Also, the child actors aren't that good, and the casting of twins (who are similar looking) as the two brothers makes things especially confusing and hard to follow. Additionally, the retconning of Bughuul to having multiple killing cycles somehow takes away his mystic and diminishes the stakes of the battle for this one family. Sinister 2 makes all the wrong moves and becomes just another cheesy horror sequel doing the same old thing.
Dann Michalski
Super Reviewer
½
Okay, another sequel to an original that I didn't see. Something tells me that the first one wasn't much better. This is slightly creepy but ultimately it rolls out as any number of predictable horrors do. Another forgettable effort.
John Ballantine
Super Reviewer
½
A qualitative improvement over its predecessor, the sporadically bone-trembling Sinister 2 won't proselytize anyone who loathed the original but it's a step forward. At this point, Blumhouse Productions has a monopoly on horror films in a calendar year. It doesn't replicate the formula of the original as much as it elaborates on it. Now the paradigm shift is from the clueless parents to the actual brainwashed victims of Bughuul- the homicidal children. It's ghastly to witness the Pied Piper seduction of an innocent youth being indoctrinated by other child poltergeists into goosestepping with the boogeyman's bidding. It preys on our fear of our offspring the same Stephen King attempted in Children of the Corn. The found-footage reels of the aforementioned murders are the integral components and they're the most inventively nerve-rattling ingredients as well. An inverted alligator decapitation and a scarecrow-burning-in-effigy death are the prime cuts. Normally people don't flee the premises of a ghost infestation for absurd reasons but finally, the impetus for Courtney Collins (Shannyn Sossamon) is a flight-risk court order which seems more legitimate. James Ransone is the only reprising cast member and thankfully he is no longer a Deputy Dewey-esque officer. I'd say the best output for Blumhouse this perennial is The Gift but Sinister 2 doesn't assassinate their reputation.
Cory Taylor
Super Reviewer
Sinister 2 Quotes
| | |
| --- | --- |
| Deputy So & So: | There's always three things involved. A murdered family, a house, and some form of offering. |
| | |
| --- | --- |
| Deputy So & So: | Do you believe in evil? |
Discussion Forum
Discuss Sinister 2 on our Movie forum!