Sinister 2
(2015)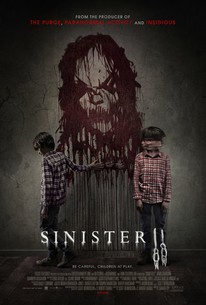 TOMATOMETER
AUDIENCE SCORE
Critic Consensus: Sinister 2 has a few ingredients that will be familiar to fans of the original; unfortunately, in this slapdash second installment, none of them are scary anymore.
Movie Info
The sequel to the 2012 sleeper hit horror movie. In the aftermath of the shocking events in "Sinister," a protective mother (Shannyn Sossamon of "Wayward Pines") and her 9-year-old twin sons (real-life twins Robert and Dartanian Sloan) find themselves in a rural house marked for death. (C) Focus
News & Interviews for Sinister 2
Critic Reviews for Sinister 2
Audience Reviews for Sinister 2
½
Okay, another sequel to an original that I didn't see. Something tells me that the first one wasn't much better. This is slightly creepy but ultimately it rolls out as any number of predictable horrors do. Another forgettable effort.
John Ballantine
Super Reviewer
½
Here's the thing with the first Sinister, a movie that I actually enjoyed, everything was going really well. The film was effective and the footage of the families being murdered while creepy music played in the background being the highlights of the film. The problems came in the fact that the twist, if it can be called that, was that it was actually a supernatural being/demon that was forcing the kids to commit these murders, before they then disappeared, theoretically to be consumed by this demon. That ruined a really good movie, to me. I suppose the idea of children murdering their entire families in horrifying fashion has to be creepy, but it just didn't work for me in the slightest. Everything in the first film seemed to be working in the real world and that is infinitely more creepy than any supernatural being they could come up with. So this brings us to the sequel, which picks up where things left off despite not featuring any of the characters from the original film, with the obvious exception of the Deputy, who's now the lead. Let us just say that the bloom is off the rose with this franchise. Hell, the bloom was off the rose by the end of the first movie. But, since that movie was massively successful considering it had a $3 million budget, this is what we get. A sequel that nobody really asked for. A sequel that, realistically, is inferior in pretty much every way, shape or form. There's no other way to put it. This movie had a bigger budget than the original, around $10 million, yet it somehow feels and looks cheaper than the original. I don't even know how that happens, but it did. The murder footage with the creepy music is back and, while it is the best part of the film, it just feels like regurgitating what came before without actually really trying to expand too much on what was done prior. Though, to be fair, what exactly CAN you do to expand on the first film. They didn't really leave much room for growth or expansion. I'm not saying that C. Robert Cargill or Scott Derrickson, who co-wrote the film, didn't try their hardest to make this film into a good one, but I'm just saying that perhaps, subconsciously, their hearts weren't as into this as it was for the first Sinister. Maybe they conceived that as a one-and-done movie and not necessarily the start of a franchise. But you can just tell from watching the movie that there's no real life to the film, it's just words and actions on the screen. There's no real meaning or reasoning to any of them. It exists just because it can, or because it was commissioned. The film has poorly written characters, acting is so-so (Shannyn Sossamon pretty much hammed it up in some scenes) and the film is littered with jump scares, which, again, and I say this a lot, is the laziest form of scaring people humanly possible. Anyone can pull of a jump scare, but not a lot of people can actually pull off terrifying people down to their core. You know the sad thing is the fact that, while this film was less commercially successful than the original, it still made more than five times its budget. You know what that means, right? Another fucking sequel. It hasn't been confirmed or even hinted at, I think, but it wouldn't surprise me if we get one. The problem lies in the fact that there's no real intrigue in the premise anymore. That intrigue was thrown away in the first film, when you find out what's really going on. And they failed to get it back with the story they presented here. Not that I imagine that they were even trying to achieve that, but the film just isn't interesting to watch. It's not awful, but it's terrible in that there's just nothing to really justify this film's existence, everything is exactly the same at the end as it was in the beginning. So, essentially, everything that happened in this movie is moot point, because the demon will keep doing what he's doing. Which is what pisses me off about these 'it's not really over' endings, it's like nothing matters. No matter what anyone does, it's gonna keep going on, so why the fuck do we keep making these goddamn sequels then? This isn't the guiltiest of parties when it comes to this type of shit, but it's the straw that broke the camel's back. I can't recommend this movie, it's seriously one of the most uninspired sequels I have ever seen. Real bad movie here.
Jesse Ortega
Super Reviewer
½
A qualitative improvement over its predecessor, the sporadically bone-trembling Sinister 2 won't proselytize anyone who loathed the original but it's a step forward. At this point, Blumhouse Productions has a monopoly on horror films in a calendar year. It doesn't replicate the formula of the original as much as it elaborates on it. Now the paradigm shift is from the clueless parents to the actual brainwashed victims of Bughuul- the homicidal children. It's ghastly to witness the Pied Piper seduction of an innocent youth being indoctrinated by other child poltergeists into goosestepping with the boogeyman's bidding. It preys on our fear of our offspring the same Stephen King attempted in Children of the Corn. The found-footage reels of the aforementioned murders are the integral components and they're the most inventively nerve-rattling ingredients as well. An inverted alligator decapitation and a scarecrow-burning-in-effigy death are the prime cuts. Normally people don't flee the premises of a ghost infestation for absurd reasons but finally, the impetus for Courtney Collins (Shannyn Sossamon) is a flight-risk court order which seems more legitimate. James Ransone is the only reprising cast member and thankfully he is no longer a Deputy Dewey-esque officer. I'd say the best output for Blumhouse this perennial is The Gift but Sinister 2 doesn't assassinate their reputation.
Cory Taylor
Super Reviewer
Sinister 2 Quotes
| | |
| --- | --- |
| Deputy So & So: | There's always three things involved. A murdered family, a house, and some form of offering. |
| | |
| --- | --- |
| Deputy So & So: | Do you believe in evil? |
Discussion Forum
Discuss Sinister 2 on our Movie forum!