Small Soldiers
(1998)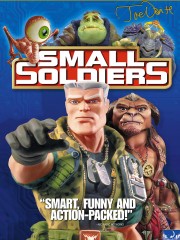 Small Soldiers Trailers & Photos
Movie Info
Director Joe Dante and his producer, Steven Spielberg, are reunited for a darkly comic, and ultimately weak knockoff of their magical 1984 creation, "Gremlins."
more
Cast
News & Interviews for Small Soldiers
Critic Reviews for Small Soldiers
Audience Reviews for Small Soldiers
Major Chip Hazard: If it lacerates or detonates, I want it mobile and I want it lethal. 

"The few, the proud, and the small."

I hadn't watched Small Soldiers since I was 8 years old, but I found a great deal of enjoyment from this fun and satirical Joe Dante film. The movie obviously doesn't come flaw free. In fact if you wanted to keep count of just how many elements of this movie are flawed; it would be a tough job. The fact is though, that I just don't really care about the flaws. There's too much good stuff going on here, that it overshadows everything that is wrong with it.

So, a toy company comes up with a new idea that let's the toys interact. Then they market it around the American heroes killing the enemy aliens. There's a lot of satire going on here especially in that the soldiers are the bad guys. After a neighborhood kid gets his hands on the toys a little early, the battle between the Soldiers and the aliens begins. Dante isn't exactly subtle, but his style works perfectly here. The movie has the same kind of feel that The Burbs had, and both are good films from Dante. The movie is so chaotic and messy, but in the best possible way.

The cast brings out the best in the movie as well. We have Kirsten Dunst, Tommy Lee Jones in a voice role, Dennis Leary, Phil Hartman, David Cross, and a variety of other decent to good character actors. Also, I really enjoyed the jokes that were being thrown at us, either direct or subliminal. Dante had a good eye for what he could exploit with this type of plot and I believe he made good use of what he had.

You can call the movie stupid, you can call the movie ridiculous, and you can call the movie flat out awful; but I'm going to call it one hell of a fun time. It may not be a masterpiece, but it does exactly what it set out to do. It's entertaining, occasionally funny, and never boring. It's quick moving and appeals to more than just children. It's truly an underrated movie in my opinion.
Melvin White
Super Reviewer
½
A strange mix of Gremlins and Toy Story. Anyway, Joe Dante's satirical picture is captivating.
Small Soldiers Quotes
Maj. Chip Hazard: It's a small world after all.
Insaniac / Freakenstein: Hey Alan what do you think? Boxers or briefs? Hahaha!
Alan Abernathy: Get those off your head...
Insaniac / Freakenstein: Haha but seriously!.....Actually I'm allergic to plaid.
Discussion Forum
Discuss Small Soldiers on our Movie forum!
News & Features