Sunflower (I girasoli)
(1970)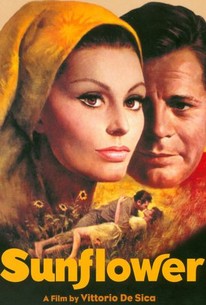 AUDIENCE SCORE
Critic Consensus: No consensus yet.
Movie Info
Twelve days before WWII breaks out, Giovanna marries handsome Antonio, who is sent to the front in Siberia. Antonio almost dies but is rescued by a beautiful Russian girl. Eventually Antonio marries her. Meanwhile, poor Giovanna waits for him to return and finally goes to look for him herself.
Critic Reviews for Sunflower (I girasoli)
All Critics (2) | Top Critics (1) | Fresh (1) | Rotten (1) | DVD (1)
Chetnal fortuna-the pornography of sex cannot be replaced by the opera of soap.
Excellent drama, with Sophia Loren at the peak of her powers.
December 12, 2003 | Rating: 5/5
Audience Reviews for Sunflower (I girasoli)
A poignant and intense emotional journey through relationships and love in wartime and the devastating affects that war brings to those involved. Sunflower is a beautiful Drama about an Italian woman who marries a soldier and spends years of her life hoping and searching for him after the war ends and there is still no word from her husband. Later she finds him, and when she does what she discovers will change both their lives forever. Recommended for drama fans and fans of Sophia Loren who delivers another complex and amazing performance. De Sica certainly has much better films out there in his earlier work and even other collaborations with the same here, but while no Umberto D. (1952) or Bicycle Thieves (1949), there is still some of the master's finesse here and enough heart to keep the film moving along and holding dramatic weight.
Chris Browning
Super Reviewer
½
In "Sunflower," Giovanna(Sophia Loren) still thinks her husband Antonio(Marcello Mastroianni, accept no imitations) is alive decades after being reported missing in World War II. They met shortly before he was scheduled to be shipped off to Africa.(Don't tell me, she actually bought that line!) In order to desperately keep him safe, they marry in order to get a 12-day leave. That having gone quickly, he feigns insanity but is found out and is shipped off to the Russian front... While "Sunflower" is not close to his best films, Vittorio De Sica still has enough skill with the medium to turn the movie into something more than a run of the mill tearjerker, aided as he is by such gifted actors. As antiwar as it is, the film is also concerned with two characters who futilely fight against history and nationalism at all costs. At 32, Antonio is not married and probably would not have married Giovanna if not for the war. And their attempt to get Antonio out of the war only makes matters far worse.
Sunflower (I girasoli) Quotes
There are no approved quotes yet for this movie.