Tashan
(2008)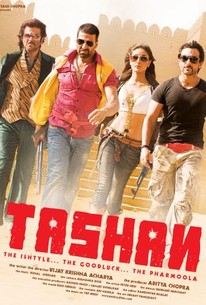 Movie Info
Producer Aditya Chopra teams with writer/director Vijay Krishna Acharya for this bullet-strewn action flick starring Akshay Kumar, Saif Ali Khan, Kareena Kapoor, and Anil Kapoor.
Critic Reviews for Tashan
Audience Reviews for Tashan
½
The translation of Tashan is style, and this film from Vijay Krishna Acharya definitely has its own style.
The story is entertaining enough and so is the tashan of this movie. The opening credits is catchy and a good way to start the film. From here on out, the first half of this 2 hours and 28 minutes is really playful. There is a lot of upbeat music in the background and one of the characters even talks to the camera. 3 of the 4 musical numbers also appear in this half. The second half is where the story gets more meat, the action comes into play, and the upbeat tempo sort of dies down.
Yes, I did say that this film is just under 2 hours and 30 minutes. Yes, I did say there are musical numbers. Now, the musical numbers themselves are more like music videos for each of the characters. It is not that the characters break into song. The film just switches to music video mode. The characters dance and sing in costumes and settings that have nothing to do with the film. They are unnecessary, however the tunes are catchy. So, minus the 4 music videos and a stupid introduction for the Bachchan character, the film is 2 hours.
Kareena Kapoor is gorgeous, especially in her music video segment. Yummy. Akshay Kumar, Saif Ali Khan, and Anil Kapoor also provide entertaining performances.
Tashan is entertaining in a unique way, but at the end of the day, it isn't something to run home for. It is worth the watch if time allows.
½
Here's a movie that is not so bad. Fairly well story plot. The world of stealing, lying, and cheating does not fall short of as it does in the world of Pooja, Jimmy Cliff, and Bachchan. Their ultimate goal is to be the winner in the outcome, and the goal is ever so approachable. Pooja has a secret plan to fulfill, and it leads over several years when she is utlimately capable. Jimmy Cliff is looking for the easiest path to success. As for Bachchan, his dream is to one day serve his fellow hero-gangster. Each are in for a hilarious ride. Interesting music. Great cast- Akshay Kumar, Saif Ali Khan, Anil Kapoor, and Kareena Kapoor. Worth seeing!
Tashan Quotes
There are no approved quotes yet for this movie.