The Beales of Grey Gardens
(2006)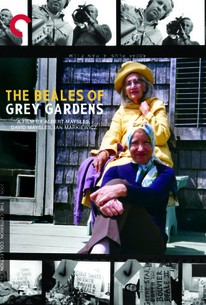 Movie Info
For their classic, 1976 documentary Grey Gardens, Albert and David Maysles shot hours-upon-hours of footage exploring the lives of their subjects Edith Bouvier Beale and her daughter Edie (who were affectionately referred to by their brothers as Big Edie and Little Edie), whose quiet lives on the grounds of a dilapidated estate stood in remarkable contrast to their quick with and extravagant upbringing. Though the brothers were unable to use a vast majority of the fascinating footage in the ninety-four minute film, this companion piece comprised of never-before-seen outtakes culled from the original shooting sessions allows Grey Gardens fans to take a trip back to that familiar, dilapidated mansion to hear both Big Edie and Little Edie discuss everything from love and war to the existence of God. A nostalgic montage of Little Edie offers a warm testament to the eccentric daughter's inimitable fashion sense.
Critic Reviews for The Beales of Grey Gardens
Audience Reviews for The Beales of Grey Gardens
½
Probably could have left it alone after the first one, but still interesting and worth the watch.
Nicki Marie
Super Reviewer
½
Never been much of one for once-rich and privileged, now-poor and self- obsessed white folks endlessly rambling over past glories and flirting like school girls. i must have no heart.
Worth the watch but just the one time. Grey Gardens sloppy seconds.
Sunil Jawahir
Super Reviewer
The Beales of Grey Gardens Quotes
There are no approved quotes yet for this movie.