The Curiosity of Chance
(2006)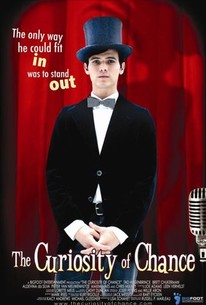 AUDIENCE SCORE
Critic Consensus: No consensus yet.
The Curiosity of Chance Photos
Movie Info
When a stylish gay student arrives for his first day at Brickland International High School, the threats he endures from the jocks and bullies is soon balanced by his friendship with two of the school's biggest misfits in director Russell P. Marleau's loopy teen comedy. For the most part, Brickland is your average European high school - with popular kids, athletes, geeks, and fashionistas all tallying for top dog status. When Chance arrives for his first day at Brickland decked out in a top hat and carrying a cane, football punter Brad Harden promptly singles him out for torment. Thankfully Chance has the kind of quick wits needed to deflect Brad's homophobic attacks. Upon making friends with sassy Twyla and geeky Hank, Chance quickly begins to learn the ropes at Brickland. Later, an excursion to the local drag bar, a bit of amateur sleuthing, and an burgeoning alliance with athletic musician and straight boy Levi finds Chance poised to achieve legendary status at Brickland.
Critic Reviews for The Curiosity of Chance
All Critics (1) | Fresh (1) | Rotten (0)
... imagine yourself as Chance when he finally gets to be himself, in front of family and friends, his arch enemy is humiliated and he gets a big wet one from the man of his dreams.
Audience Reviews for The Curiosity of Chance
Netflix sent me this as one of those "if you liked these movies, you'll like this" so I didn't know anything about it going in. There's a lot to like about it (although it did remind me of the tv show "Glee")...the actors were great and charming...the characters were not as cookie-cutter as I would have supposed: the widowed father, "Sir", was not a rigid stereotype; the all-knowing sister was funny with her perfect but completely fake British accent as Chance points out, Chance taking a chance on doing drag was great and he was so pretty in a not-campy way, his reaction to his picture in that same drag outfit plastered all over the school was probably the most telling moment of the film: you want to control how other people see you...even if how they see you is accurate...but the fact is that if you are yourself, people can and do react to you however they damned well please. Sobering, growing up moment. I loved the support of his drag queen friends...a part of being gay that most straight people, especially straight conservative religionistas never see: the support of the tribe.
Bathsheba Monk
Super Reviewer
½
This is the guy I wish I was as a gay teen in the 80s. Chance is a fun guy trying to learn more of WHO he is that WHAT he is. It plays on the stereotypes of high school a bit too much but none-the-less a fun movie. I hope to see these actors grow and succeed.
Thomas Johnston
Super Reviewer
The Curiosity of Chance Quotes
There are no approved quotes yet for this movie.