The Four Times (Le Quattro Volte)
(2011)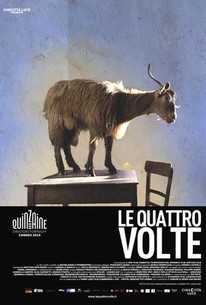 TOMATOMETER
AUDIENCE SCORE
Critic Consensus: Birth, death, and transformation are examined in Le Quattro Volte, a profound and often funny mediation on the cycles of life on earth.
The Four Times (Le Quattro Volte) Photos
Movie Info
An idyllic village in Italy's mountainous region of Calabria is the setting for LE QUATTRO VOLTE, an exquisitely filmed take on the cycles of life. Structured in four parts, per its title ("four times"), it opens with a shepherd tending his herd of goats, then shifts focus to one goat in particular, the tree under which he seeks shelter, and the industrialized fate of that plant. A.O. Scott of The New York Times writes: "(Its) view of nature is among the most profound, expansive and unsettling I have ever encountered on film. There is virtually no dialogue, yet the film is far from silent: the rustling of trees, the sounds of agricultural labor, the barking of a dog and in particular the cries of goats supply a meaning that transcends words, while Mr. Frammartino's eye for both comedy and mystery produces compositions that are so strange and memorable that they seem to reinvent the very act of perception." -- (C) Lorber
News & Interviews for The Four Times (Le Quattro Volte)
Critic Reviews for The Four Times (Le Quattro Volte)
Audience Reviews for The Four Times (Le Quattro Volte)
'Le Quattro Volte'. A highly unique film, exemplifying the visual medium of communication, documenting life moving from one form to another, in a town mostly untouched by the modern world, with large doses of humour thrown in! For all intents and purposes, there is no dialogue throughout the entire film, forgiving a few inaudible murmurs between characters. This lack of dialogue is in no way missed, due to Michelangelo Frammartino's direction and the stars of the film, the animals, and nature itself. I'm not quite sure how much of it was staged, and how it was made to happen, but the goats and dog of this film are arguably far funnier than the highest paid comedians of Hollywood. The obvious sequence involving the shepherd's dog, a rock, a truck and a procession. Couple that with the sorrow felt when the goat we follow from birth becomes separated from its pack, bleating away, trying to find its way back home, eventually settling into a hillside at night, starkly contrasted by the thick snow covering all, spelling inevitable doom; amazingly invokved emotions. Having seen 'The Tree of Life' so recently, there were similarities thematically with 'Le Quattro Volte', but where Malick's scope was so, so grand, and framed around Christianity, I loved the smaller, focused scope of 'Le Quattro Volte'. Inspired by philosopher Pythagoras' belief in four-fold transmigration - from human to animal to vegetable to mineral, Frammartino steers the ship in such a way that the interconnectedness of it all is seamless and poetic, in tune with the four seasons, and the lives of everyone in the town. In his review, A.O. Scott said... "You have never seen anything like this movie, even though what it shows you has been there all along" I haven't seen many goats myself, but I don't think I can put it any better. [text from http://blog.c0up.com/le-quattro-volte-spoilers-duh]
½
An Italian goatherd dies, then a goat born and dies, then a tree is cut down and made into charcoal in this slow moving, dialogue-free experiment. It's all made to illustrate Pythagoras' lesser-known theorem that humans are made up of the rational, the animal, the vegetable and the mineral. It has some hypnotic, documentary-style moments, and the Calabrian countryside is beautiful to behold, but mainly it's film medicine: you get the sense it's good for you, but it's not that much fun on the intake.
"Le Quattro Volte" is a wordless nature documentary that is captivating for about 30 minutes. Director Michelangelo Frammartino (his second feature film) photographs an old man tending goats in a small Italian village where life has not changed much in 500 years. Frammartino is as much interested in the goats as the man, and the director does a remarkable job demonstrating the similarity between humans and other animals. The shepherd and his flock constitute Part 1 of the film. Part 2 concerns the burning of wood to make charcoal. We watch as the local men build huge burning devices and fill them with freshly cut wood. The resulting charcoal is then brought to the houses of the village, where it is burned. Smoke then comes out the village chimneys, adding soot to the air. The soot then accumulates on village floors and windowsills. This refers back to Part 1, where we saw the elderly shepherd collecting soot from the floor of the local church. All of this doesn't add up to much. Frammartino is a great cinematographer, but his ideas don't amount to much more than warmed-over Buddhism or modern eco-awareness about the interconnectedness of life forms. Ultimately, 'Quattro Volte' (which can be translated as "The Four Stages" or "The Four Turns") doesn't offer much more than you'd get from an episode of "Nature" on PBS. Add Frammartino's name to the ever-growing list of cinematographers masquerading as filmmakers. There is a worldwide epidemic causing cinematographers to believe they have what it takes to be directors, simply because they are good at cinematography. Someone explain to these men (and so far they are all men) that filmmaking is not just about cinematography! This problem seems particularly pronounced in Italy right now. Last year we had the brainless but beautifully photographed "I Am Love" from Luca Guadagnino. In 2011, we have the similarly vacuous but sumptuously photographed "Quattro Volte." Viva Italia!
William Dunmyer
Super Reviewer
The Four Times (Le Quattro Volte) Quotes
There are no approved quotes yet for this movie.