Maze Runner: The Death Cure
(2018)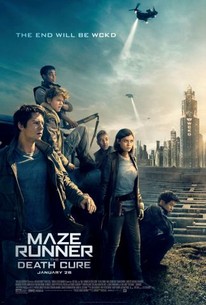 TOMATOMETER
AUDIENCE SCORE
Critic Consensus: Maze Runner: The Death Cure may offer closure to fans of the franchise, but for anyone who hasn't already been hooked, this bloated final installment is best left unseen.
Maze Runner: The Death Cure Videos
Maze Runner: The Death Cure Photos
Movie Info
In the epic finale to the Maze Runner saga, Thomas leads his group of escaped Gladers on their final and most dangerous mission yet. To save their friends, they must break into the legendary Last City, a WCKD-controlled labyrinth that may turn out to be the deadliest maze of all. Anyone who makes it out alive will get answers to the questions the Gladers have been asking since they first arrived in the maze.
News & Interviews for Maze Runner: The Death Cure
Critic Reviews for Maze Runner: The Death Cure
Audience Reviews for Maze Runner: The Death Cure
One day, hopefully, young adult book adaptations will stop being made. It was fine when the first Hunger Games film came out in 2012. But then other films and film series like The Divergent Series, The Giver, The Mortal Instruments, and now the Maze Runner trilogy. Now, the idea has run stale, and I tend to roll my eyes towards any new YA novel adaptation that hit the theaters. Somehow, I managed to get roped into seeing the final installment of the Maze Runner trilogy, The Death Cure, which wraps up the story told by the previous two. Before I begin, I will give full disclosure to anybody who is reading: I have ONLY seen the first film in the series (The Maze Runner), and I never saw the second out of a lack of interest. So, some of my judgment on the film could be skewed, and I will do my best to review it as a film rather than as a third installment in a franchise. The Death Cure tells the story of a group of teenagers who escaped the Maze in the franchise's first feature film, and it focuses on their battle against WCKD, an organization attempting to find a cure to a disease called the Flare that is ravaging what is left of humanity. The film features many of the same characters from its predecessors. We have, of course, Dylan O'Brien as Thomas, the leader of this group of people (most of whom are immune to the Flare), Thomas Sangster as his best friend Newt, Kaya Scodelario as Teresa, Ki Hong Lee as another one of Thomas' friends Minho, and a variety of other actors that portray less important characters. This brings me to my first problem with The Death Cure: its reliance on previous films to make the audience care for the characters. The only characters I ever felt for were Thomas and Newt, and this was primarily due to their friendship, one of the few things that carried the film. There was one other character in the film (whose identity will remain secret due to its potential to spoil things for Maze Runner fans) who I also really liked, but this was solely due to the talented actor who played the character. Aside from those three characters, I never really cared about anybody else... the villain(s) were derivative and had unclear/boring motivations, the supporting protagonists never did anything more than support the main protagonists, and everybody else was very forgettable. The Death Cure never tries to be more than it is marketed as: a pretty-looking action movie. And this is both a good and bad thing for its viewers. If you come into the film expecting that, you're going to get what you bargained for. It's entertaining without a doubt, and there are plenty of big-budget action stunts, explosions, and intense shootouts like you would expect. However, there are plenty of problems sprinkled into this mix. First of all, the amount of deus ex machina in the film was infuriating. This led the film to be predictable throughout and boring at times. Second of all, the film is long, far too long for a movie of this caliber. Third of all, lots of the writing and screenplay was messy. And finally, I'd like to point out that the WCKD troops in the film have aim that is even worse than the aim of Stormtroopers, which is saying something. In the end, The Death Cure is a forgettable final installment in a forgettable Young Adult film series. It has some merits, but those merits are bogged down by an abundance of problems and the fact that the movie is hard to appreciate without having seen its predecessors. If you were a fan of the first two Maze Runner films, I think you will enjoy this one. Otherwise, I would suggest sitting this one out. There are other films in theaters at the moment that would be more worth your (and my) time. Maze Runner: The Death Cure gets 2 out of 5 stars.
Paul Fuchs
Super Reviewer
I'm glad that the filmmakers still found a way to release The Death Cure and not go straight to digital/on demand. It's not that I think this trilogy is among the best post apocalyptic series nor did I really have an ounce of excitement going in, but after Dylan O'Brien had his accident and over 2 years of fans waiting, the ending is here. If I'm being completely honest, The Death Cure actually served as a perfectly fitting end to an above average young adult series. I don't consider myself a fan per say, but if I was, I'm guessing I would absolutely love this film. It ties up loose ends and finds a way to close out the series in a surprisingly emotional send-off. It's much different than say The Hunger Games, which ended the series on a completely sour and disappointingly safe note, The Death Cure takes some chances and didn't have the beat for beat moments I expected from a YA adaptation. O'Brien, who is shaping himself out to be a force in this business, provided another solid lead performance and he's surrounded by equally efficient turns from Kaya Scodelario, Aidan Gillen, Thomas Brodie-Sangster, Giancarlo Esposito, and Rosa Salazar. None of them take the material too seriously, something the Divergent series had a problem with, but they found a right balance of heart and humor. It's far from perfect, and for those who don't appreciate a good YA adaptation every once in awhile likely won't find anything here to like, but The Death Cure was immensely better than I expected. Sometimes that's all you need a film to be. 6.9/10
Thomas Drufke
Super Reviewer
½
The Maze Runner films aren't any sort of Hollywood masterpieces by any stretch of the imagination, but I've always thoroughly enjoyed them for what they are. Going into the third film after quite a large break since the second installment, I found myself wondering if it was too little, too late. Happily, I can admit that this trilogy of films stays pretty consistent with one another in the fact that each consecutive film builds on the previous one. If you've followed this trilogy from the beginning, there are definitely some true moments of drama surrounding Maze Runner: The Death Cure and the final act of this film shows that the filmmakers care about wrapping this story up nicely. Here's why I believe you should check this one out, but also watch all three films back-to-back if you haven't seen them. While I'm not going to try and ruin the previous films, I would just recommend seeing the others before reading this quick synopsis. That being said, Maze Runner: The Death Cure picks up right where the second left off, as the remaining survivors of the Maze, along with a new crew of combatants, set off on a quest to gain back their friend in Minho. This is the core premise of the film, and this particular aspect of the film lends itself to a nice conclusion, but it's not the only thing going on. As the film progresses, we also get a glimpse into the corporation known as WCKD and what they've been planning all along. Viruses are wiping out the world, but who's really to trust anymore? This film raises some interesting questions, which keeps the audience on their feet. Once again, Dylan O'Brien proves himself as not only a worthy action star but a true actor in the making. I can't wait to see where he branches off to next because I've loved everything about his portrayal of Thomas from the very beginning. That's also due to some solid direction by Wes Ball. He's not a household name for film fans as of yet, but if this trilogy of films is any indication, he has a very bright future ahead of him. The way he brings out solid performances from the entire cast, with the few highlights being Ki Hong Lee's portrayal of Minho or Thomas Brodie-Sangster's Newt. Minho and Newt were always likeable characters from the beginning, but the fact that they're just as involved as Thomas now, makes the conclusion feel worthwhile. Where the film may lose some viewers is due to its slight long run time. Not to say that movies have to be less than two hours to not feel slow, but there are quite a few moments throughout this film that I felt could've been trimmed down. There are quite a few things that need to be wrapped up along the way, so I can see the need for a 142-minute duration, but it does feel its length at times. There is some terrific action spread out throughout this movie, which is another plus, but that also hurts the movie, because the movie seems to slow down quite a bit in between the excitement, which is something the other two films balanced a little better in my opinion. Without giving anything away, there is an element to all three of these films that are never brought up in this film whatsoever and I personally felt cheated as a viewer. Look, not everything needs to come full circle, but there were a couple opportunities where something could've been written into the movie as a nice bow, but just wasn't. Like I said, I enjoyed the ending to this trilogy quite a bit, but there were definitely some missed opportunities. In the end, Maze Runner: The Death Cure cares about its fanbase and closes this trilogy out on a solid note. A few tears may have been shed, a few goosebumps may have been had, and although there's nothing spectacular about these films, it's nice to see a director getting the opportunity to make all three films in the series and wrapping everything up nicely. The Maze Runner trilogy won't go down as one of the greatest trilogies of all time, but I do believe that the fanbase will expand over time. This is a solid trilogy worth sitting through. I recommend this third installment to fans of the first two and I recommend the trilogy to those who haven't given it a shot.
Maze Runner: The Death Cure Quotes
There are no approved quotes yet for this movie.