The Thing
(2011)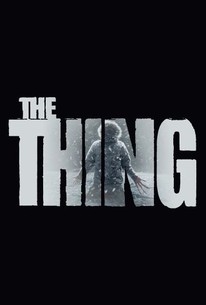 TOMATOMETER
AUDIENCE SCORE
Critic Consensus: It serves the bare serviceable minimum for a horror flick, but The Thing is all boo-scares and a slave to the far superior John Carpenter version.
Movie Info
Paleontologist Kate Lloyd (Mary Elizabeth Winstead) has traveled to the desolate region for the expedition of her lifetime. Joining a Norwegian scientific team that has stumbled across an extraterrestrial ship buried in the ice, she discovers an organism that seems to have died in the crash eons ago. But it is about to wake up. When a simple experiment frees the alien from its frozen prison, Kate must join the crew's pilot, Carter (Joel Edgerton), to keep it from killing them off one at a time. And in this vast, intense land, a parasite that can mimic anything it touches will pit human against human as it tries to survive and flourish. The Thing serves as a prelude to John Carpenter's classic 1982 film of the same name. -- (C) Universal
People Who Like this movie also like
News & Interviews for The Thing
Critic Reviews for The Thing
Audience Reviews for The Thing
½
Its as if somebody drunk or high described John Carpenter's version to a filmmaker at a party, and what they made was this movie, without the substance, without the thought, without the bite. The actors are okay, but the special effects guys are expected to carry the whole effort and aren't given any support.
Kevin M. Williams
Super Reviewer
Not a bad prequel to Carptenter's classic. Takes its premise, setting and characters serious enough to work while paying homage to the original. of course, there are plenty of stereotypes owed to the genre conventions, which make it less surprising than it could have been. But it works well enough while it lasts. Especially the creature effects and deaths are pretty gruesome.
The anticipation and final outcome of this prequel have been split right down the middle, was it a good idea in the first place?, should it have been a sequel with Russell? or perhaps completely remade, opinions differ hugely. For me this has not been as bad as I expected in all honesty, I have seen much worse in recent years with the influx of reboots and remakes and this prequel isn't all that bad. Yes the big wigs have been rather crafty, they wanted a sequel but decided not to out of fear I think, same for remake, why remake a cult? instead they turned to a prequel which basically gave them the opportunity to make another which was pretty much more of the same but with an excuse. So yes its more of the same and it all looks the same seeing as its set right before the original, OK no problem. The look is good, sets are good, costume is good, it all looks really real, cold and the cast are actually quite decent, wisely using unknowns for the majority. I also liked the kind of 'Alien' feel to the build up with Winstead clearly having a Ripley type character of sorts. Problem one of course is the effects, personally I think its a mixed bag, its all CGI of course but some of it looks pretty good whilst other bits look poor. I think the effects department (including Woodruff Jr.) did a good job in trying to create the creature around what was hinted at in brief moments of the original whilst also trying to keep it in tone with the creature we have seen already and at the same time making it different. I think the 'Juliette-thing' looked really good simply as a huge razor teethed gaping maw on legs with her head dangling round the back and there are some nice moments such as Griggs starting to transform. Unfortunately the rest does seem rather unoriginal and dull simply utilizing the age old tentacles notion that doesn't really fit with the original and with later designs that looked like a Sarlacc with legs or something from the Resident Evil franchise. One thing that did disappoint me was the lack of info on the creature, I was really hoping for some insight on its background. Where it may have come from and why? how and why did it crash on Earth? is there an entire race? why so hostile? assimilate for food? what does its original form look like? were there more inside the ship seeing as its so huge? how did they create such technology originally and how do they pilot the ship in their form? etc...So many questions but you get nothing which is a shame really, maybe some don't wish to know but I'm just real curious. The whole film does seem a little pointless I admit as we can all guess what happened before the creature makes it into Carpenters film. But I do think they addressed the continuity quite well despite one or two issues and I loved how they made this prequel flow perfectly into the old original. Not really scary or that dark and forboding but its not too far off. Not sure what is suppose to have happened to Kate in the end and the whole dog ending also made me think why not just run off in that form right from the start? My final thoughts...I quite liked it, better than most are saying methinks. My advice is simply watch this then the original Carpenter film straight afterwards and this film actually does seem a lot better than you might have previously thought, they do connect together nicely.
Phil Hubbs
Super Reviewer
The Thing Quotes
| | |
| --- | --- |
| Kate Lloyd: | Do you really think that's a good idea? |
| Kate Lloyd: | Do you think that's a really good idea? |
| | |
| --- | --- |
| Kate Lloyd: | If it makes it out of here millions of people die! |
| Kate Lloyd: | If it makes it out of here, millions of people die! |
| | |
| --- | --- |
| Kate Lloyd: | Not all of us are human! |