Two Thousand Maniacs!
(1964)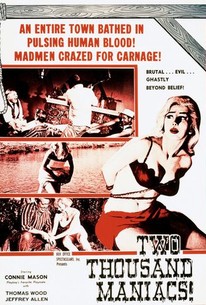 Two Thousand Maniacs! Photos
Movie Info
The inimitable Herschel Gordon Lewis offers us a warped variation of Brigadoon in his "chef d'oeuvre" 2000 Maniacs. A bunch of dull, faceless young folks wander into a strange southern town. Here the strangers are systematically tortured and butchered by the town's congenital-idiot residents. It turns out that the villagers are the ghosts of Confederate soldiers, exacting revenge for the Civil War. Admittedly, the various methods of murder are inventive, and there is a hint of tongue in cheek. Still, 2000 Maniacs is a Herschel Gordon Lewis production, which should be warning enough.
People Who Like this movie also like
Critic Reviews for Two Thousand Maniacs!
Audience Reviews for Two Thousand Maniacs!
Herschell Gordon Lewis' Two Thousand Maniacs! may be low in the gore department, but the story is completely bonkers. A group of southern folk invite people who are passing through town to their annual festival - only to later kill them in some ridiculous ways and eat them afterwards at a BBQ. I actually like stuff like Blood Feast more than I do this. I'm not sure if it's because of the amount of gore in that film compared to this one, but it just seems much more fun than this one. Not that this one isn't enjoyable, but it has some slow areas with character build-up that doesn't go anywhere. The ending is also an obvious conclusion way before you get there to see it. It's all bad in the good way, but mediocre when you look at the rest of Lewis' work.
Tim Salmons
Super Reviewer
½
I was surprised that this wasn't as gory as his other movies. The story is good, though, I really liked the ending most of all. As usual the actors aren't great, but they try hard. Overall this was a pretty good movie, if only it didn't shy away from the gory parts.
An entire town bathed in pulsing human blood! Madmen crazed for carnage! Brutal...evil..ghastly beyond belief! The two thousand maniacs of a small town clebrate the 100th anniversary of the Civil War by forcing a handful of Notherners to serve as "guests" for a variety of macabre, blood-crazed fun and games. The festivities include a screaming man placed in a rolling barrel lined with nails, a hit-the-bull's-eye carnival game with a pretty gal and a boulder, and a blonde sexpot whose arm is hacked off and barbecued! But before they can slaughter te only clever Yank (Thomas Wood), he and the lovely Terry Adams (Connie Mason, "Playboy's Favourite Playmate") try to escape... Photographed, written & directed by Herschell Gordon Lewis who has become known as the 'Godfather of Gore' this was the second in his so-called Blood Trilogy following Blood Feast (1963) & followed by Color Me Blood Red (1965) & is a neat enough little exploitation gore film that has a reasonable story behind it. The script moves along at a nice enough pace, it's populated by over-the-top character's & gore although I think the twist ending goes on for too long & could have been edited down to be a bit punchier & dramatic. The basic story here is pretty good, it show's a bit of imagination especially during the set-piece gore scenes & I especially liked the barrel with nails hammered inside which is then rolled down a hill with someone inside, ouch! This is a surprisingly good effort on what was probably intended to be no more than a quick cheap gore film to capitalise on the huge success of Lewis' seminal Blood Feast which is widely regarded as the very first gore film ever made. I liked it. Director Lewis has a decent imagination & is good at getting the most out of what must have been tiny budgets (apparently he did the voice over on the trailers for his films because he didn't want to pay anyone) but he really can't direct at all, his films look dull & are very poorly staged. Here for instance look at the reactions of the victims as they appear to be in mortal danger, none of them put up any sort of fight or struggle & almost seem willing to let their tormentors kill them, he just can't direct actor's & Two Thousand Maniacs! is a good case in point. There's some good gore here although tame by todays standards, someone has her thumb cut off & then her arm chopped off with an axe, someone is drawn & quarter having had his arms & legs tied to four separate horse, someone is rolled down a hill in a barrel full of nails which ends in very bloody results at the bottom & someone is squished with a huge boulder. The special effects aren't too bad either although the blood looks a bit bright. With a supposed budget of about $65,000 only Two Thousand Maniacs! didn't turn out too bad but it's hardly any work of art & the sound is absolutely terrible. It's sometimes hard to understand what character's are saying as their voices 'echo' on location, there are constant pops & crackles in the soundtrack & the sound effect of those cars at the start sound nothing like cars at all, I have to admit I thought the opening theme was annoyingly catchy. The acting is truly terrible, I'm sorry but there's no other word to describe it. Two Thousand Maniacs! is a neat enough exploitative gore film from the 60's with a slightly better story than you would perhaps expect, if that sounds like a film you might like then by all means check it out, if it doesn't then don't. A marvelously perverse cult classick, TWO THOUSAND MANIACS! is also the second of the infamous "blood trilogy" (which includes Blood Feast and Colour Me Blood Red) from profucer David F. Friedman (Trader Hornee) and director Herschell Gordon Lewis (Blood Feast). Yeeeee-Ha! Oh, the South's gonna rise again!
Cassandra Maples
Super Reviewer
Two Thousand Maniacs! Quotes
There are no approved quotes yet for this movie.