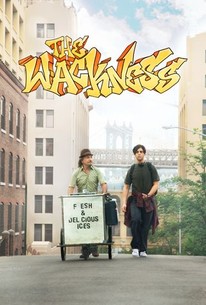 Wackness
2008, Comedy/Drama, 1h 50m
136 Reviews
25,000+ Ratings
What to know
critics consensus
Sympathetic characters and a clever script help The Wackness overcome a familiar plot to make for a charming coming-of-age comedy. Read critic reviews
Where to watch
Rent/buy
Rent/buy
Rent/buy
Rate And Review
Movie Info
It's summer in New York City, the year is 1994, and teenage marijuana dealer Luke Shapiro (Josh Peck) is trading dime bags for sessions with his therapist, Dr. Squires (Ben Kingsley). Luke has girl troubles and self-esteem issues, but the doctor has problems of his own -- namely, his deteriorating marriage and midlife crisis. Together, the mismatched pair launch across the metropolis on an odyssey full of girls (Olivia Thirlby, Mary-Kate Olsen), hip-hop and cannabis smoke.
News & Interviews for Wackness
Audience Reviews for Wackness
I liked this a lot! It was different and sweet and I enjoyed that it took place in the 90's.

The year is 1994, the place is New York City, and Luke Shapiro, having just graduated high school, tries to spend the summer figuring out what to do with his life, as well as how to deal with all of his various issues. Along the way, he makes his living dealing pot, which also includes trading some of his pot in exchange of clinical help from his psychiatrist Dr. Squires, who also happens to be his only real friend. Things get complicated when Luke starts up a relationship with his doctor's stepdaughter. This is both a coming of age drama (with occasional bits of comedy) and a love letter to the nostalgic days of the 90s. In fact, the film is not very subtle when it coems to reminding the audience that the film is set in 1994. This might be annoying to some, but I rather liked it, but I have a huge love for the 90s, so there. Musically, since this is an urban film, and because the main character is into hip hop, that's what the bulk of the soundtrack is, although there's some nice chestnuts from the 60s and 70s thrown in as well, so that's great. The characters aren't really the most admirable or worthy of being role models, and they aren't always totally likeable or sympathetic, but they are interesting, so that makes watchign a movie about them worthwhile. I couldn't completely relate to this film or the characters in every way, but I found enough similarities to make them somewhat more sympathetic. I liked the lead, but this is one of those movies that is owned by the suporting characters. This film's got an intersting cast, and they all do a pretty decent job (at the very least), especially Ben Kingsley- who really goes off the rails and is rather unrecognizable here as the therapist who is also a drugged out relic yearning for the good old days. Josh Peck is not bad as Luke, but I wasn't blown away by him. Olivia Thirlby, who I liked in Juno, is even better here, giving a sassy and hip performance as the stepdaughter/love interest. In smaller but memorable roles are Method Man as Luke's supplier and Mary-Kate Olsen as one of Luke's customers, a party girl who has a really memorable WTF scene with Sir Ben. Going back to the music for a sec, I think it's interesting to note that this is the second film that Olivia Thirlby has appeared in which features "All the Young Dudes" by Mott The Hoople. Odd. This is a good movie, but not great. It's adequate, but I give it slighly higher marks (admittedly) because I'm a fan of the time period, I like seeing dignified actors play way against type, but do so in dignified ways that don't seem forced. If a movie about angsty bored drug users in the 90s sounds like your type of thing, then give this a watch.

With a great script, interesting characters and excellent performances all round, ''The Wackness'' is a very sweet, uplifting coming-of-age dramedy.

With chameleon-like versatility, Ben Kingsley went from peace-loving pacifist in "Gandhi" to intimidating pychopath in "Sexy Beast". Here, he finds a juicy role that slots somewhere inbetween. Luke Shapiro (Josh Peck), is a small-time dealer who literally carts weed around in an ice-cream wagon. He thinks he's depressed; his therapist, Dr. Squires (Ben Kingsley), thinks he just needs to get laid. Trouble is, the girl Luke's into is Squires' step-daughter Stephanie (Olivia Thirlby), a fact he keeps secret from his mentor. The movie follows the evolution of these relationships - Luke and Squires, Luke and Stephanie, and Squires and his cold wife (Famke Janssen). A fine little coming-of-age/rite-of-passage film that's elevated above the norm due to fine performances from the two leads. Peck perfectly captures the endearing, but dumb as a bag of hammers, nature of Luke. Director Jonathan Levine does well in keeping the 90's style flowing and nostalgic, with great use of hip-hop soundtrack but really this film is about one thing and one thing only...Ben Kingsley! Is this really Gandhi we are watching, sucking on bongs, smoking blunts and shagging one of the Olsen twins in a phone box? As it appears, yes it is, and it's fun to see Kingsley letting loose again and proving how good an actor he is. The problem is though, when he's not on screen the film suffers and becomes a tad tedious until he appears again. A decent effort by all involved but the material is nothing new and relies a little to heavily on Kingsley's eccentricity carrying it home.
See Details