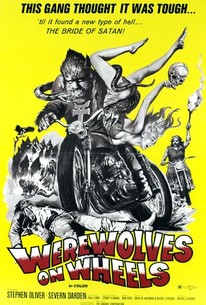 Werewolves on Wheels
1971, Horror, 1h 25m
0 Reviews
500+ Ratings
Rate And Review
Werewolves on Wheels Photos
Movie Info
A biker gang and its leader (Stephen Oliver) fall prey to a satan worshipper (Severn Darden) and his cult.
News & Interviews for Werewolves on Wheels
There are no critic reviews yet for Werewolves on Wheels. Keep checking Rotten Tomatoes for updates!
Audience Reviews for Werewolves on Wheels
Pretty decent horror exploitation film about a group of bikers who are werewolves. If you're looking for a fun, but very flawed low-budget flick to watch, then give this one a viewing. If you love these types of low-grade films, then this is for you. The film does lack in the plot department, and most of the time, it's pretty dull, and the acting and directing aren't that great either. However, the idea behind the film is pretty neat and fun, and there is enough here to make it worth seeing it once. There's twisted, supernatural elements that's apparent thro0ughout the film and it overcomes it flaws just enough for you to enjoy it. The film is sleazy, cheesy and tongue in cheek, and has enough things going for the exploitation film fan. However for the common horror fan, this one may be hard to watch as there's really not that much substance to its plot and effective, standout performances. Werewolves on Wheels is decent, but never great. This is one of those obscured low-budget gems that really defined exploitation films for what they are. Fun, unfocused and ultimately forgettable, this really could have been a stand out film, but in the end, it leaves a lot to be desired out of the plot. If you come across this title, give it a watch if you have nothing else better to do. This is a decent picture that has an interesting premise, but never does take off. Fun, but leaves you wanting more out of a film.

This film is from the 42nd Street Volume 1 Movie Collection, and it holds everything in it that would get it on 42nd Street in the Seventies. About a gang of bikers who in the 1960 - 1975 era were all bad, This group gets hooked up with Satan Worshipers, Cults and is a total bikesploitation flick. The sound track is great its perfect blend of country and psychedelic rock, witch adds more to the weird, psyched out 70s feeling of the film. Its a pretty good film for the 42nd street collection 3 Stars.

Super fun and funny. Not as werewolfy as one might think, the whole gang doesn't turn into lychanthropes but still really great grindhouse flick.
See Details