The Corpse-Sniffing Dog
EPISODE: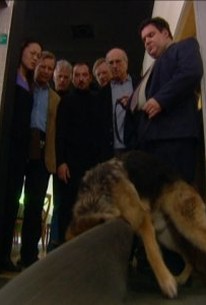 Episode Info
Larry (Larry David) hires a new chef (Ian Gomez of My Big Fat Greek Wedding) for the restaurant. He gets the job thanks in part to his baldness. Larry and Cheryl (Cheryl Hines) go out to eat with Stu (Don Stark) and Susan Braudy (Amy Aquino), with whom they've reconciled after the whole "terrorist attack" fiasco. Larry is annoyed when Stu implies that he knows more about wine than Larry. The Braudys mention that they want to get a dog for their kids, so Larry tells them that Susie (Susie Essman) got a "corpse-sniffing" German shepherd when she and Jeff (Jeff Garlin) separated. Now Jeff has moved back in, and he's allergic to the dog, so Larry thinks they might give it to the Braudys. Then the check comes, and Stu makes a point of picking it up. But Larry insists on thanking only Stu for the meal, and not Susan, because Susan doesn't work, so by Larry's reasoning, it's Stu's money. The restaurant is going to open in a matter of days, when Jeff brings his dog in. The dog runs into the kitchen and starts digging at the floor. Concerned that there might be a corpse down there, the restaurant folks (including Ted Danson and Michael York) call the police. The police have to dig up the floor to search for a body. Meanwhile, at Larry's suggestion, Jeff gives his young daughter Sammy (Ashly Holloway) an ultimatum: either the dog goes or he does. She chooses the dog, which leads Larry to pay her a visit and use his unique powers of persuasion.
The Corpse-Sniffing Dog Photos
Discussion Forum
Discuss Curb Your Enthusiasm on our TV talk forum!