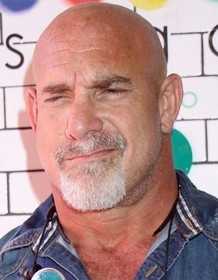 Bill Goldberg
Highest Rated: 78% American Satan (2017)
Lowest Rated: 5% Universal Soldier: The Return (1999)
Birthday: Dec 27, 1966
Birthplace: Tulsa, Oklahoma, USA
Having been the first man to hold the gold belt in both the WCW and WWE, professional wrestler Bill Goldberg remained one of sports-entertainment's most popular figures. Born on Dec. 27, 1966 in Tulsa, OK, Goldberg was raised in an observant Jewish home by his father, Jed, a Harvard-educated obstetrician and gynecologist, and his mother, Ethel, a classical violinist. After graduating Tulsa Edison High School in 1985, he was one of the most sought-after recruits for college football, eventually going on to play defensive end at the University of Georgia, where he was named All-Southeastern Conference twice and second team All-American once. By the time he graduated in 1989, Goldberg was seventh all-time on Georgia's career tackle list and sixth on their career sack list. Though he too small by NFL standards, he was nonetheless drafted in the 11th round by the then-Los Angeles Rams, only to find himself consigned to the practice squad for the season. In 1992, he was on the roster with the Atlanta Falcons, with whom he played a total of 14 games over the next three seasons. After being cut by the Falcons, he was selected by the newly-minted Carolina Panthers in the 1995 NFL Expansion Draft, only to suffer an abdominal injury that ended his career for good.
Photos
AMERICAN SATAN, BILL GOLDBERG (RIGHT), 2017. © AMC INDEPENDENT
LOONEY TUNES: BACK IN ACTION, Yosemite Sam, Bill Goldberg, 2003, (c) Warner Brothers
THE LONGEST YARD, Bill Goldberg, Brian Bosworth, 2005, (c) Paramount
UNIVERSAL SOLDIER: THE RETURN, Bill Goldberg, Kiana Tom, 1999, (c)TriStar Pictures
THE LONGEST YARD, Bill Goldberg, Burt Reynolds, Bob Sapp, 2005, (c) Paramount
THE LONGEST YARD, Bill Goldberg, Bob Sapp, Lobo Sebastian, Dalip Singh, 2005, (c) Paramount
READY TO RUMBLE, Goldberg (aka Bill Goldberg), Oliver Platt, 2000, ©Warner Bros.
READY TO RUMBLE, Bill Goldberg, Joe Pantoliano, Diamond Dallas Page, 2000, (c)Warner Bros.
UNIVERSAL SOLDIER: THE RETURN, Bill Goldberg, Jean-Claude Van Damme, 1999, (c)TriStar Pictures
UNIVERSAL SOLDIER: THE RETURN, Bill Goldberg, 1999, (c)TriStar Pictures
AMERICAN SATAN, FROM LEFT: SEBASTIAN GREGORY, BILL GOLDBERG, JOHN BRADLEY, ANDY BIERSACK, 2017. © AMC INDEPENDENT
FURY OF THE FIST AND THE GOLDEN FLEECE, BILL GOLDBERG, 2018. © COMEDY DYNAMICS