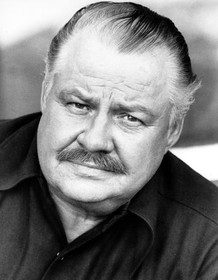 Clifton James
Highest Rated: 100% Experiment in Terror (1962)
Lowest Rated: 15% The Bonfire of the Vanities (1990)
Birthday: May 29, 1921
Birthplace: Spokane, Washington, USA
It's uncommon that someone can say that he worked with more than one of the actors that portrayed James Bond in film, but Clifton James is one of the few who can make such a claim. James began acting during the 1950s in small roles on such programs as "The Phil Silvers Show," "Decoy," and "Naked City." He continued landing bit parts in television ("Gunsmoke") as well as motion pictures ("Cool Hand Luke") throughout the 1960s. During the 1970s James built a two-part association with the James Bond film franchise; he portrayed the humorous Sheriff J.W. Pepper in "Live and Let Die" (1973) and "The Man with the Golden Gun" (1974), appearing alongside Roger Moore. James would continue to secure roles in such popular films as "Silver Streak" and "Superman II," before appearing in the hit 1987 film "The Untouchables," which featured original Bond actor Sean Connery. James continued to add to his acting resume in the ensuing decade, but by the early 21st century, he was landing roles much more infrequently.
Photos
LIVE AND LET DIE, Clifton James, Roger Moore, 1973.
JUGGERNAUT, from left, Doris Nolan, Clifton James, 1974
DAVID AND LISA, Keir Dullea, Clifton James, Janet Margolin, 1962
THE STRANGE ONE, Clifton James, Ben Gazzara, 1957
WILL PENNY, Clifton James, Charlton Heston, 1968
RANCHO DELUXE, Harry Dean Stanton, Charlene Dallas, Slim Pickens, Elizabeth Ashley, Clifton James, 1975
SUNSHINE STATE, Clifton James, Alan King, 2002, (c) Sony Pictures Classics
LIVE AND LET DIE, Clifton James, 1973.
WHOOPS APOCALYPSE, Michael Richards, Clifton James, 1986, ©MGM
JUGGERNAUT, Doris Nolan, Clifton James, 1974
LIVE AND LET DIE, Clifton James, 1973
LIVE AND LET DIE, Clifton James, 1973
Filmography
Movies
TV
Credit

No Score Yet

No Score Yet

Dallas
Unknown (Guest Star)

1990

No Score Yet

88%

Murder, She Wrote
Ray Dressler (Guest Star)

1988

No Score Yet

No Score Yet

Highway to Heaven
Nick Claybourne (Guest Star)

1984

No Score Yet

64%

The A-Team
Warden Beale (Guest Star)

1983

No Score Yet

No Score Yet

Trapper John, M.D.
Unknown (Guest Star)

1979

1982

No Score Yet

No Score Yet

The Fall Guy
Unknown (Guest Star)

1982

No Score Yet

No Score Yet

The Dukes of Hazzard
Sheriff Lester Crabb (Guest Star)

1980

No Score Yet

No Score Yet

Hart to Hart
Unknown (Guest Star)

1979

No Score Yet

No Score Yet

The Six Million Dollar Man
Walter 'Shadetree' Burns (Guest Star)

1974

No Score Yet

No Score Yet

Bonanza
Unknown (Guest Star)

1968

1971

No Score Yet

No Score Yet

Gunsmoke
Teek (Guest Star)

1958

1965-1966

1970

No Score Yet

No Score Yet

Mannix
Barney Ford, Police Chief (Guest Star)

1968

No Score Yet

No Score Yet

Cimarron Strip
Unknown (Guest Star)

1967

No Score Yet

No Score Yet

East Side/West Side
Unknown (Guest Star)

1963

No Score Yet

No Score Yet

Cain's Hundred
Unknown (Guest Star)

1961

No Score Yet

No Score Yet

Marshal Dillon
Unknown (Guest Star)

1958