Experiment in Terror
(1962)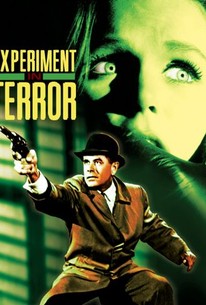 Movie Info
John Ripley (Glenn Ford) is the FBI agent called in to investigate a bank robbery that appears to be an inside job. Kelly (Lee Remick) is the terrified bank clerk who confides in Ripley when the sadistic mastermind of the crime threatens to kill her and her sister if she doesn't steal $100,000. Ripley's efforts are hampered by the fact that criminal Red Lunch (Ross Martin) is a master of disguise. In the gripping climax, Red is chased to Candlestick Park, where he blends into a capacity crowd watching the Giants fight for the National League pennant.
Rating:
NR
Genre:
, ,
Directed By:
Written By:
In Theaters:
On DVD:
Runtime:
Studio:
Sony Pictures Entertainment
News & Interviews for Experiment in Terror
Critic Reviews for Experiment in Terror
Audience Reviews for Experiment in Terror
He's a pretty terrible man...really... A man kidnaps a beautiful young lady and coerces her into removing $10,000 from her bank account to give to him. The girl runs to the police and a private investigator tries to help the girl find the kidnapper. This only infuriates the kidnapper worse and puts additional pressure on the girl to follow his demands. Can the girl and the private investigator capture the kidnapper or will the kidnapper get away with the girl's money? "There's nobody here." "I think you're wrong." Blake Edwards, director of The Pink Panther, Revenge of the Pink Panther, Son of the Pink Panther, The Party, Switch (1991), Blind Date, Sunset, and Curse of the Pink Panther, delivers Experiment in Terror. The storyline for this is a little cliché in some ways, but has some unique qualities with the villain interactions with the main character. The acting is as you'd expect for this era and solid. The cast includes Glenn Ford, Lee Remick, Stefanie Powers, Ned Glass, Clifton James, and Ross Martin. "The doctor says if I was a building they'd condemn me." I came across this on Turner Classic Movies (TCM) this Halloween season and decided to give it a shot. This is a classic desperate dame finds over-zealous private eye movie with some "When a Stranger Calls" elements mixed in. This may not be an all time classic, but it isn't a waste of time either. I recommend giving it a viewing. "Is somebody there?" Grade: C+/B-
Kevin Robbins
Blake Edwards' taut-suspense classic about a beautiful bank clerk, played wonderfully by Lee Remick who is terrorized by a murderous asthmatic-voiced extortionist, chilling played by Ross Martin, that is planing to use her to steal a $100,000 from the bank where she works. An FBI agent, superbly played by Glenn Ford, that Remick managed to contact is now aiding her in trying to apprehended the psychotic Martin who has threaten to kill her and her young sister. Exceptional direction by Edwards, who gives his thriller some serious edge-of-your-seat moments. Solid, convincing supporting performances by Stefanie Powers, Roy Poole, Ned Glass, and Aita Loo. Glorious black & white cinematography by Phillip H. Lathrop, and a great Henry Manicini score. A realistic and compelling motion picture thriller. Highly Recommended.
Danny Rovira
Super Reviewer
½
like a bridge between film noir detective stories and the modern thriller, this really was an experiment on the part of blake edwards, much better known for his light comedies. made immediately after the charming if over-rated breakfast at tiffany's, the film pioneered techniques used to great effect by depalma among others in the 80's. it looks a little dated now but this is a solid and influential piece of work
Stella Dallas
Super Reviewer
Experiment in Terror Quotes