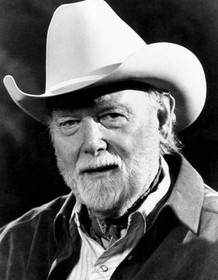 Harry Carey Jr.
Highest Rated: 100% Shenandoah (1965)
Lowest Rated: Not Available
Birthday: May 16, 1921
Birthplace: Saugus, California, USA
The son of silent film cowboy Harry Carey, Harry Carey Jr. relied on the horsemanship his father had taught him to win roles for John Ford, Raoul Walsh and Howard Hawks. Graced with a slight, boyish physique, Carey was often cast as decent but doomed frontiersmen. Gunned down by Robert Mitchum in "Pursued" (1947), trampled by cattle in "Red River" (1948), and slaughtered by Comanche marauders in "The Searchers" (1948), Carey plied his trade without ego. With Ford as his mentor, he found a Dutch uncle in Ford's frequent leading man John Wayne, who brokered Carey's first shot at a co-starring credit in "3 Godfathers" (1948) - a remake of one of his father's silent films - and included him in his later vehicles "Island in the Sky" (1953), "The Undefeated" (1969), and "Cahill U.S. Marshall" (1973). With the death of Ford in 1973 and of Wayne in 1979, the aging Carey became a touchstone for Baby Boom filmmakers and he contributed nostalgic cameos to Joe Dante's "Gremlins" (1984), Robert Zemeckis' "Back to the Future Part III" (1990) and George Pan Cosmatos' "Tombstone" (1994). Slowing but rarely stopping, Carey retired from acting in his seventies to focus his energies a writer-producer, focusing on the careers of the Hollywood giants on whose shoulders he had enjoyed the ride of his life.
Skip to Quotes
Filmography
Movies
TV
Credit

No Score Yet

90%

Knight Rider
Unknown (Guest Star)

1982

No Score Yet

80%

CHiPs
Unknown (Guest Star)

1982

No Score Yet

92%

Little House on the Prairie
Sheriff Pike (Guest Star)

1980

No Score Yet

No Score Yet

B.J. and the Bear
Unknown (Guest Star)

1980

No Score Yet

100%

Gunsmoke
Deesha (Guest Star)

1959

1961-1963

1965

1967-1968

1971

1974

No Score Yet

No Score Yet

The Streets of San Francisco
Bo Dobbs (Guest Star)

1974

No Score Yet

No Score Yet

Banacek
Unknown (Guest Star)

1974

No Score Yet

No Score Yet

Mannix
Floyd Brand (Guest Star)

1969

No Score Yet

No Score Yet

Cimarron Strip
Unknown (Guest Star)

1968

No Score Yet

100%

Bonanza
Unknown (Guest Star)

1959-1960

1965

1967

No Score Yet

No Score Yet

Branded
Unknown (Guest Star)

1965

No Score Yet

No Score Yet

Wagon Train
Unknown (Guest Star)

1959

1962-1963

No Score Yet

No Score Yet

Lassie
Competition Judge (Guest Star)

1961

1963

No Score Yet

No Score Yet

Have Gun -- Will Travel
Unknown (Guest Star)

1958-1963

No Score Yet

No Score Yet

Laramie
Dan Emery (Character),
Hobey (Guest Star)

1961-1962

No Score Yet

100%

Rawhide
Unknown (Guest Star)

1959

1962

No Score Yet

No Score Yet

Perry Mason
District Ranger Frank Deane (Guest Star)

1961

No Score Yet

No Score Yet

The Rifleman
Unknown (Guest Star)

1960-1961

No Score Yet

No Score Yet

Timmy & Lassie
Unknown (Guest Star)

1961

No Score Yet

No Score Yet

Whispering Smith
Sgt. Curt Stringer (Guest Star)

1961

No Score Yet

No Score Yet

Marshal Dillon
Unknown (Guest Star)

1959

1961

No Score Yet

No Score Yet

The Tall Man
Dusty (Guest Star)

1960

No Score Yet

No Score Yet

Men Into Space
Major Jim Blythe (Guest Star)

1960

No Score Yet

No Score Yet

Tombstone Territory
Unknown (Guest Star)

1960

No Score Yet

No Score Yet

Climax!
Unknown (Character)

1956

No Score Yet

No Score Yet

The Adventures of Spin and Marty
Bill Burnett (Character)

1955

No Score Yet

No Score Yet

The Lone Ranger
Unknown (Guest Star)

1955