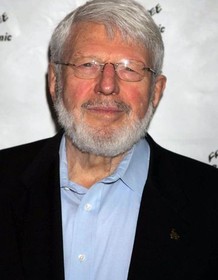 Theodore Bikel
Highest Rated: 100% The Stingiest Man in Town (1978)
Lowest Rated: Not Available
Birthday: May 2, 1924
Birthplace: Vienna, Austria
Internationally renowned actor and folksinger Theodore Bikel made his first stage appearance as the Village Clerk in a Tel Aviv production of "Tevye, the Milkman" and would in fact play the life-loving Tevye so many times in productions of "Fiddler on the Roof" that it became his signature role (although he claimed to have liked "Zorba!" better). After graduating from London's Royal Academy of Dramatic Art, he won acclaim for his work in West End productions of "A Streetcar Named Desire" (1949, directed by Laurence Olivier) and "The Love of Four Colonels" (1951, directed by Peter Ustinov) before making his Broadway debut in "Tonight in Samarkand" (1955). Though he also played Robert de Baudricourt in "The Lark" that year on Broadway, a part he would reprise for the 1967 NBC "Hallmark Hall of Fame" presentation of "St. Joan" his best-known theatrical credit (aside from Tevye) is probably his creation of Captain Georg von Trapp for the Broadway production of "The Sound of Music" (1959), starring Mary Martin. Bikel's feature debut came as the First officer of the Luisa in the John Huston classic "The African Queen" (1951). He would find himself on (or under) the water again as second-in-command of the German U-boat in "The Enemy Below" (1957) and the (Soviet) Captain in Cold War farce "The Russians Are Coming, the Russians Are Coming" (1966). In fact, his facility for languages (fluent in Yiddish, Hebrew, French, German and English) helped land a plethora of international roles throughout his career. Bikel earned an Oscar nomination as Best Supporting Actor for his portrayal of the moderate sheriff in "The Defiant Ones" (1958), and he played Russian linguist Zoltan Karpathy in the Academy Award-winning "My Fair Lady" (1964). A guest star on countless TV series, he appeared on four episodes of "Murder, She Wrote" (CBS 1984-1996) in the '80s and '90s, not to mention having recurring roles on "Dynasty" (ABC 1981-89) and "Falcon Crest" (CBS 1981-1990). He also portrayed Henry Kissinger in the ABC movie "The Final Days" (1989), based on the book by Bob Woodward. As Bikel entered his mid-'70s, his acting career slowed down to occasional small roles in films ranging from the thrillers "Shattered" (1991) and "Benefit of the Doubt" (1993) to the post-Soviet comedy "My Family Treasure" (1993) and the inspirational drama "Second Chances" (1998). He appeared as a rabbi in the science fiction hit "Babylon 5" (syndicated 1994-98) and as a farmer in the procedural drama "JAG" (CBS 1995-2005). His final screen roles came in Menahem Golan's modern-day adaptation of "Crime and Punishment" (2002) and in the Israeli drama "The Little Traitor" (2007), starring Alfred Molina. Theodore Bikel died of undisclosed natural causes on July 21, 2015 in Los Angeles. He was 91 years old.
Photos
THE COLDITZ STORY, Theodore Bikel, 1955
MY SIDE OF THE MOUNTAIN, Theodore Bikel, 1969
MY SIDE OF THE MOUNTAIN, Theodore Bikel, 1969
THE LITTLE TRAITOR, (aka HA''BOGED HAKATAN), Theodore Bikel, 2007. ph: Yoni Hamenachem/©Regent Releasing
THE ENEMY BELOW, Theodore Bikel 1957. TM and Copyright © 20th Century Fox Film Corp. All rights reserved..
THE DEFIANT ONES, Theodore Bikel, 1958.
THE AFRICAN QUEEN, Theodore Bikel, 1951
I BURY THE LIVING, Theodore Bikel, 1958
RUSSIANS ARE COMING THE RUSSIANS ARE COMING, Theodore Bikel, Alan Arkin, 1966
I BURY THE LIVING, Richard Boone, Theodore Bikel, 1958
DOG OF FLANDERS, Theodore Bikel, 1959.TM and Copyright (c) 20th Century Fox Film Corp. All rights reserved.
THE LITTLE ARK, from left: Genevieve Ambas, Theodore Bikel, Philip Frame, 1972
MY SIDE OF THE MOUNTAIN, from left: Ted Eccles, Theodore Bikel, 1969
DARKER THAN AMBER, Suzy Kendall, Rod Taylor, Theodore Bikel, 1970
MY SIDE OF THE MOUNTAIN, from left: Theodore Bikel, Ted Eccles, 1969
200 MOTELS, from left, Ringo Starr, Theodore Bikel, 1971
I BURY THE LIVING, Theodore Bikel, Richard Boone, 1958
THE LITTLE TRAITOR, (aka HA''BOGED HAKATAN), from left: Ido Port, Theodore Bikel, 2007. ph: Yoni Hamenachem/©Regent Releasing
SWEET NOVEMBER, from left: Theodore Bikel, Sandy Dennis, Marj Dusay (standing), Burr DeBenning (front), 1968