The Enemy Below
(1957)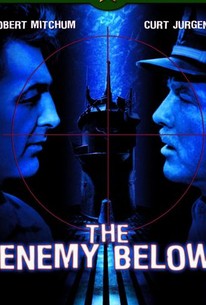 Movie Info
The Enemy Below is a study of submarine warfare from the vantage point of both sides. Robert Mitchum plays the captain of an American destroyer, who despite having lost his family in the war endeavors to let his head rule his heart in combat. Curt Jurgens co-stars as a German U-boat commander, depicted as being as honorable and compassionate as Mitchum. The two men develop a grudging mutual respect as they pursue one another throughout the North Atlantic. Based on a novel by D. A. Rayner, The Enemy Below was the last theatrical film directed by Dick Powell, who hereafter concentrated on his extensive television work. ~ Hal Erickson, Rovi
Critic Reviews for The Enemy Below
All Critics (5) | Fresh (4) | Rotten (1) | DVD (4)
This WWII drama, centering on the suspenseful warfare between rival sumarine officers, German (Curt Jurgens) and American (Robert Mitchum, deservedly won the Special Effects Oscar.
While recognizing that it's not any sort of great piece of acting by Robert Mitchum or a searing portrait of war, if one accepts The Enemy Below as an action-filled war movie, it's thoroughly entertaining stuff.
Audience Reviews for The Enemy Below
Two fine actors Mitchum and Jurgens make this worth watching.
½
One of the better films made about submarine and anti-submarine warfare, The Enemy Below takes a unique dual view of the action. It's basically a duel between an escort vessel and the U-Boat that they are hunting, a scenario that's been used in other films like it. While it suffers from the obviously propagandist nature of World War 2 films, it's better than most when it comes to the human non-political nature of this kind of warfare. Curt Jurgens plays his German opponent with his usual grim-faced vigor. The depiction of the action is pretty good by the standards of the day, although the plot is somewhat predictable. The destroyer escort depicted is accurate as to class, and actual crew of a real US destroyer escort were extras in the film. The U-Boat set is less impressive, and fails to capture the cramped nature of the small German boats in the Atlantic. Das Boot still remains the best of this genre, but Enemy Below is pretty competent as to tactics and devices used. Based on a book by a former British Navy officer, the whole scenario closely resembles similar ram-and-sink incidents in the North Atlantic convoy actions. Robert Mitchum played a number of naval officers during his long and varied career, but this is one of his better gutsy performances.
A real nail-biter of a film about a naval destroyer, captained by Robert Mitchum, playing cat and mouse during WWII with a German U-Boat, captained by Curt Jurgens. The film doesn't pick sides for the most part, showing respect for both crews, and particularly both captains as they try to predict each other's moves. It shows that even though we may be "enemies" politically, we are not really any different from each other. Such a good film I was almost late for work because I needed to see how it ended.
The Enemy Below Quotes
There are no approved quotes yet for this movie.