The Last Song
(2010)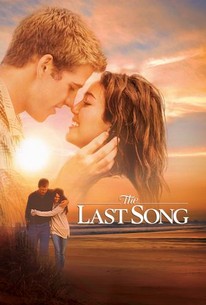 TOMATOMETER
AUDIENCE SCORE
Critic Consensus: As shamelessly manipulative as any Nicholas Sparks production, The Last Song is done no favors by its miscast and overmatched star, Miley Cyrus.
Movie Info
Based on best-selling novelist Nicholas Sparks' forthcoming novel, "The Last Song" is set in a small Southern beach town where an estranged father gets a chance to spend the summer with his reluctant teenaged daughter, who'd rather be home in New York. He tries to reconnect with her through the only thing they have in common -- music -- in a story of family, friendship, secrets and salvation, along with first loves and second chances.
People Who Like this movie also like
News & Interviews for The Last Song
Critic Reviews for The Last Song
Audience Reviews for The Last Song
Ended up switching this off 40 minutes in. Miley just wasn't all that convincing here, (and I don't even hate her - true, I am not a fan of her music, but I was well prepared to give her a chance in a movie), and the other problem was the story is pretty bland and boring. I don't honestly think she had a lot to work with. I also really didn't like Liam Hemsworth. I know he is her real life boyfriend, but I don't think he has the star quality to be a romantic lead in a movie, and I think they made Miley look plain here too when actually she is quite a pretty girl usually. I really don't tend to get into Nicholas Sparks's stories. I liked A Walk to Remember, but that seems to have been my limit with it. Update 2014. Somehow I found myself sitting through this one again. Someone raved to me about how good it was, so I wondered if I missed something and caught it on tv. Actually with lowered expectations, it wasn't as painful as I remember, and yes, actually quite sad if you sit through till the end. Still not saying I loved it, but original review was probably a bit harsh.
Nicki Marie
Super Reviewer
There are two reasons this movie is going to be loved by every teenage girl in the world. 1. They think the main guy in this is hot. 2. The movie plays out the romance that they post about on Facebook, but they'll never get to experience. In The Last Song Miley Cyrus spends time with her brother and dad on her father's beach house after their parent's divorce. She finds love and that's the story. The biggest problem with the movie right away is that Cyrus just isn't likable. She treats everyone around her like crap and she does nothing but whine about having to spend time on a beach house. Trust me, she's not the only unlikable character. Her brother is a bad acting child actor whose dialogue consists of stuff Michelle Tanner from Full House would say, her dad is just some guy, and Cyrus's boyfriend (Liam Hemsworth) is just a generic "that guy" with no personality. The movie is also incredibly predictable. Every time there's a dialogue scene, I was able to guess what cheesy line would be spilled out, every time there was a romance scene, I could tell what move Hemsworth would pull on Cyrus. I didn't like the acting either. Cyrus spends most of the movie bitching and in the scenes where her character is suppose to be happy, she still looks like she's about to start pouting. Hemsworth was really wooden in his role and brought nothing to the character. Another really dumb thing about the movie is the turtle hatching scene. Some of the scenes have Cyrus caring over turtle eggs and half of the movie builds up to them hatching. There are two problems with that scenario: 1. Why would you build up something as simple as turtle hatching? 2. If you're going to build up to a scene, make it last more than 30 seconds. I'm not kidding, the turtles hatching doesn't last long because it's replaced with another stupid story arc concerning the dad. By the end of the movie, I didn't even care what had happened. There wasn't any flow to the story, the characters were boring, the plot was cliche, the dialogue was hammy and the acting was pathetic. The only purpose this movie served was making money and trying to pass off as an unofficial sequel to The Notebook.
Tyler Robertson
Super Reviewer
It is a funny way to create a movie. "Lets write a movie as a vehicle for Miley Cyrus to initiate her adult acting career". Nevertheless it is good fodder if you are a romantic -- what does it say in the summary? "...first loves and second chances".
The Last Song Quotes
| | |
| --- | --- |
| Will Blakelee: | Oh, come on! I'm just practicing Southern hospitality! |
| Ronnie Miller: | Oh really? Is that what they call hitting on strangers now? |
| | |
| --- | --- |
| Jonah Miller: | Wow. You may be older. By I'm so much smarter than you. |
| | |
| --- | --- |
| Ronnie Miller: | I love you. |
| Steve Miller: | Sweetie, I love you too. |
| Ronnie Miller: | I love you, daddy. |
| | |
| --- | --- |
| Ronnie Miller: | Why did you want me to see this? |
| Will Blakelee: | Because I thought you would like her as much as I do, scars and all. |