Circus
(2000)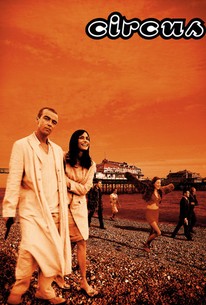 Movie Info
A confidence man discovers too late that he's on the other end of a dangerous scam in this tense thriller from England. Leo Garfield (John Hannah) is a small-time gambler and con artist who is eager to get out of the business. Bruno (Brian Conley), a brutal underworld leader, wants Leo to manage his gaming operations. While he's in no position to say no, Leo doesn't want to work for the unstable gangster. Hoping to raise enough money so that he and his wife Lily (Famke Janssen) can leave the country, Leo agrees to murder Gloria (Amanda Donohoe), the wife of a mobster named Julius (Peter Stormare). However, Bruno's brother Caspar (Ian Burfield) is convinced that Leo is up to no good, and he hopes to get some information from Lily by passing on unwelcome news -- Elmo (Fred Ward), Lily's former partner in crime, has just been released from prison, and he wants revenge for her betrayal of him after a bungled robbery. Leo goes through with his assignment to kill Gloria, only to discover that he's been set up -- the woman in question was a prostitute hired by Julius, who videotaped her death and is now demanding $500,000 in blackmail from Leo. Circus was the feature film debut for director Rob Walker, who had previously worked in British television.
Critic Reviews for Circus
Audience Reviews for Circus
There's nothing more tedious than a movie that thinks it's being clever but hasn't the wit to disguise it's twists so the audience isn't already ahead of the reveal. The only surprise the movie managed was to not add one lass tedious turn in the epilogue. A few decent performances are hampered with awkward dialogue and insistence on giving characters qwerks to define them instead of depth.
Mark Nash
½
This is one of those movies where the director tries to make a smart and clever movie but instead ends up a muddled and only mildly engrossing film. John Hannah is well cast and he comes off the best in the cast, but the characters are so unsavory that it never really drew me into the film. It's a bunch of nasty people doing a lot of nasty things.
James Higgins
Undoubtedly made in the image of Lock Stock, etc. but whoever made Circus got the formula all wrong. Nobody likes those movies because they like seeing people be double, triple, and quadruple crossed (I really think someone literally quadruple crossed someone in Circus), they like them because of the followable twists and turns that come with people getting into and then out of deep $hit, with a heavy emphasis placed on "followable." I'll admit that I have a general weakness for the genre, though, and liked Circus okay because of it, but I could make a grocery list of problems aside from the crossing that I mentioned. The music was TERRIBLE! Noir sometimes. Discotheque sometimes. It was awful and poorly used. One character in particular had no confirmed resolution. And the main character (John Hannah) comes off as this clever genius with access to a hefty amount of money to pay a blackmail, yet he can't pay off his bookie? I don't know. I'm kicking myself for each of the three stars that I give this, but I really did like it okay, it's just... bush-league.
Zane Umsted
Circus Quotes
There are no approved quotes yet for this movie.
Discussion Forum
Discuss Circus on our Movie forum!