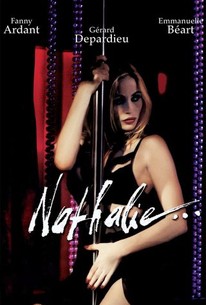 Nathalie...
2003, Drama, 1h 45m
24 Reviews
2,500+ Ratings
What to know
critics consensus
A seductive French import that portrays adult issues of jealousy and betrayal with strong lead performances and considerable French charm. Read critic reviews
Where to watch
Rent/buy
Rent/buy
Rate And Review
Movie Info
Fanny Ardant, Emmanuelle Béart, and Gérard Depardieu star in this story of an unusual love triangle. When Catherine's husband is unfaithful, she doesn't want revenge -- she's curious. She wants to share the experience, but in secret, so hires an elite prostitute to seduce her husband and report back to Catherine. Her desire to remain in control of the situation is soon tested by other desires.
Audience Reviews for Nathalie...
Interesting and just a bit weird to watch. Fanny Ardant and Emaanuelle Beart played their roles beautifully.

I can see why Anne Fontaine wasn't happy when she made "Nathalie". The two lead stars seem to hold a certain distance when they're paired onscreen together, but that's not to say both actresses (Fanny Ardant & Emmanuelle Beart) is bad because they're both equally treading on the jog mill on idle. The two individuals sadly lack interest . Nathalie is the name a Parisian prostitute assumes for a special mission or "private investigation." She is engaged in this unusual and secretive task by a professional, upper-middle-class wife who fears that her husband is unfaithful to her. Nathalie has to seduce the clueless husband and regularly report all details of her relationship with him, including his most intimate sexual preferences in bed. Nathalie is stunning, charming, and cunning... Atom Egoyan made a remake and well his version seems to be better and I think it's due to the fact that Egoyan doesn't hide anything between the relationship with his characters. They express more visually rather then mentally and everything is explained clearly towards the last drop of the picture. Fonatine's version is more mature and grounded. Catherine is attracted to Nathalie but the film won't let her express her attraction that could have been something more. The pace of the picture seemed to have dragged on and on with the same confessional affair story one after the other. Women might enjoy this picture rather then the remake due to the stimulating, erotic talk and no gratuitous sex. If Catherine and Nathalie's relationship was a little bit more moving then muddled, it probably would have left a different impression on me. Overall, I felt somewhat empty.

"nathalie" is the original french movie of "chloe" which gets released just few months ago in america. thus i have to watch "nathalie" to judge whether the remake is a pure parody or not. fortunately, the remake, in this case, isn't really inferior to the original at all. (i do give the original a chance)...and i'm glad that hollywood producer hasn't run out of its ideas by completely copying the original, they create something totally different of their own. SPOILERS! whether it's nathalie or chloe, the basic structure of the plots is the same: a woman doctor suspects her husband cheating on her because he doesn't show up at his birthday party the wife has planned for months. and the paranoid wife hires a professional hooker to seduce the husband just to test his loyalty. the more details the hooker reveals about bedroom affairs, the closer these two women. eventually there's some undercurrent romantic passion developing to unite these two women as something approximately like lovers. then suddenly the wife discovers whatever the hooker has confided is a lie: her husband never even cheats...the wife falls in love all over again with the husband? so how's hooker? what shall she do? the difference between the original and the remake is: the former is a comedy; the latter is a tragedy. emmanuelle beart, who plays the hooker, seems to put on a defiant sass. she's absolutely confident and her purpose is to entice the wife into mischievous game which she enjoys more and more. as for the lesbianism element, i don't think french nathalie is lesbianistic at all! and it's more like some inneundo to suggest these two women have some tender chemistry mellowing into somehow ambiguous sisterhood. by comparison, the wife seems to take delight at the details of her husband's affairs with the hooker. and she even secretly mocks him by ordering the wine he hates (but the hooker loves) for him. like an esoteric code of intimacy between her and the hooker. as i was writing along a paper about comic catharsis, and nathalie fits the profile..let i quote one passage from my school paper: Comedy has to pamper its feast on imagination to the extent of ridicule, but it still has a sense of universality within the plots to induce its own comic catharsis from the audience, as Kitano emphasizes: "the ridiculous in comedy which contains a universal plot arouses in the audience the purified emotion of the same name that does not have the painful element of envy" (Kitano 7). In other words, comic catharsis is "purification of emotion from the envy" that is brought forth by the blend of pain and pleasure altogether, in the same time, it is also antithetical to tragedy, which seeks its mimetic catharsis of fear and pity, because "the kind of pleasure at which comedy aims, by contrast, is achieved if enemies are reconciled and nobody is killed by anybody" two crucial points would be: the purification of envy and the reconciliation between foes...so here's nathalie. the wife hires the hooker out of envy for husband's affair, and at last her envy dissolves and gets purified when she finds herself being made as a fool. but the ending has been resymbolized into order: she and her husband reconcile. and the hooker silently lets herself out of the wife's life with a gentle kiss on her cheek. comedy. "nathalie" is something light and mild to give you a pleasant witty smile. very subtly understated. (maybe because the director is a woman? french art-house chic flick?) but "chloe" is different case, and there's nothing resembling the original except the basic plots..

was a big letdown for me..the acting performances by the three main characters were all fine, but the story moves slowly and really goes nowhere...for an erotic plotline its all talk, no action lol...you can afford to miss this one unless you are a big fan of Ms. Beart
See Details