Ghosts of Abu Ghraib
(2007)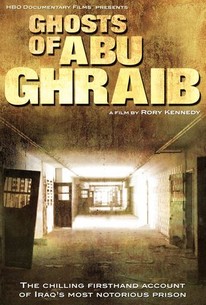 Ghosts of Abu Ghraib Photos
Movie Info
Award winning documentary filmmaker Rory Kennedy explores the human and political consequences of one of the most bitter scandals of the war in Iraq in this feature. In the 1960's, a prison was built in Abu Ghraib, an Iraqi city west of Baghdad, and during the regime of Saddam Hussein it became a center of torture and abuse where political dissidents were subjected to agonizing punishment or death. Following the United States invasion of Iraq in 2003, the prison was taken over by American military authorities, and was used as a holding facility for prisoners of war and suspected terrorists captured by U.S. forces. The prison's reputation as a site of widespread abuse rose again when journalists discovered photographs of Iraqi prisoners being tortured and humiliated in an ugly variety of ways by American soldiers, a scandal which had a major impact on international thinking about the war. Ghosts of Abu Ghraib offers an in-depth look at the story behind the abuse of Iraqi prisoners, featuring interviews with observers on both sides of the national divide. Ghosts of Abu Ghraib received its world premiere at the 2007 Sundance Film Festival.
News & Interviews for Ghosts of Abu Ghraib
Critic Reviews for Ghosts of Abu Ghraib
Audience Reviews for Ghosts of Abu Ghraib
½
This is a stellar documentary about the infamous Abu Ghraib Prisoner abuse scandal. With interviews done with the people who where there, witnessed the events and participating in the extreme interrogation techniques used by the military in Iraq, this is a chilling portrait into the ordeal. Brilliantly directed, this documentary goes deep into bringing these interrogation techniques to light. We get to see soldiers tell their story at how they were once trying to serve their country to being told that these interrogation techniques which were no more than humiliating the prisoners to get information. In doing that they got dishonorably discharged from the military, created one of the most infamous Scandals involving the U.S military and made the situation in Iraq much more fragile. I have no sympathy for the soldiers who committed the acts, and disgraced the military. The film is definitely worth seeing this is a compelling story behind what happened at the prison. The film is shocking but is also a must see. I really liked the film, thought it was insightful, but also very hard to watch due to the nature of the scandal. Rory Kennedy does a great job here, and I thought it was a very well made documentary. The film does ask important questions, and it shows how some politicians are crooked in their means of treating prisoners of war.
Ghosts of Abu Ghraib Quotes
There are no approved quotes yet for this movie.