Ninja Assassin
(2009)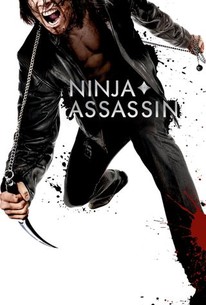 Movie Info
V for Vendetta director James McTeigue re-teams with that film's producers Larry and Andy Wachowski for this action-packed tale of a skilled assassin who was trained by a mythical secret society, and patiently awaits the day he will avenge the death of his best friend. Swept off the streets as a young boy, Raizo (Korean pop star Rain) is transformed into an unstoppable killing machine by a secret society known as the Ozunu Clan. The Ozunu Clan is so proficient at keeping their existence a secret that most people think they are only a myth, but the moment Ozuno assassins kill Raizo's friend, their days in the shadows are numbered. In the aftermath of that killing, Raizo stages a daring escape, subsequently biding his time until the day he can take the entire Ozunu Clan down. Later, in Berlin, Europol agent Mika Coretti (Naomie Harris) discovers a money trail connecting multiple political murders to a mysterious network of elusive assassins from the Far East. While her superior Ryan Maslow (Ben Miles) orders Mika to back down and stop asking questions, she stealthily begins searching through classified agency files on a relentless mission to discover the truth about the murders. Singled out as a target as a direct result of her investigation, Mika is marked for death by lethal Ozunu assassin Takeshi (Rick Yune). Just as Mika is about to be silenced forever, Raizo saves her from certain death. But Raizo knows that Takeshi and the rest of the Ozuno Clan won't stop until he and Mika are both dead. Now, as Raizo and Mika are hunted through the winding streets of Europe, their only hope for survival is to trust one another and stay alive long enough to bring the Ozunu empire crumbling to the ground. ~ Jason Buchanan, Rovi
Rating:
R (for strong bloody stylized violence throughout, and language)
Genre:
,
Directed By:
Written By:
In Theaters:
On DVD:
Box Office:
$38,105,077.00
Runtime:
Studio:
News & Interviews for Ninja Assassin
Critic Reviews for Ninja Assassin
Audience Reviews for Ninja Assassin
½
[img]http://images.rottentomatoes.com/images/user/icons/icon13.gif[/img]
Directors Cat
Super Reviewer
An oddly boring film, considering there is Ninja action basically non-stop, incredibly nasty wounds and deaths (even though clearly CGI ones). The problem is that there is not much of a story, or the one that's presented leaves us little to care about. A great example of how plenty of gore and violence does not equal entertainment.
A ninja who has turned his back on his clan fights to defend an Interpol researcher who is trying to uncover them and seek revenge upon his erstwhile master. No-one has the right to complain about the lack of depth or characterisation in this film. It's called Ninja Assassin for christ's sake. Essentially it's a mish-mash of ideas that are just an excuse for wildly over the top action sequences in which bad guys are sliced, diced and eviscerated left, right and centre; it has the "gangsters fighting against an invisible assassin" format of the Predator films, the "come with me if you want to live" character dynamic of The Terminator and the soldiers vs afore-mentioned invisible assassins finale that's straight out of Aliens. But unlike Doomsday which managed to completely balls up this mix of "influences", Ninja Assassin sticks to what it knows and presents a non-stop frenetic gorefest that's actually a lot of fun. The result reminded me of a Wachowski-fied version of Blade that's a bit thin on plot but makes up for it with above par effects and finely executed action. In fact the bad guys are very much in the vein of The Hand from the Wolverine comics and I would have been a lot happier if the Wolverine film had been handled in a similar way. Switch brain to neutral and enjoy.
Ninja Assassin Quotes
| | |
| --- | --- |
| Lord Ozunu: | Wherever you are, wherever you may go, you must never forget who you are. You are part of me, as I am part of you. This is the truth of your lives, and it will remain true after death. |
| | |
| --- | --- |
| Raizo: | " The first breath I take after I kill you, will be the first breath of my life." |
| Raizo: | The breath I take after I kill you will be the first breath of my life. |
| | |
| --- | --- |
| Mika: | I took a Tae Bo class once, but that is the extent of my kung-fu abilities. |
| | |
| --- | --- |
| Lord Ozunu: | Most children are disappointments and not worth the effort to raise. |
| Lord Ozunu: | Most children are disappointments. Not worth the effort to raise. |
Discussion Forum
Discuss Ninja Assassin on our Movie forum!