Loren Cass
(2006)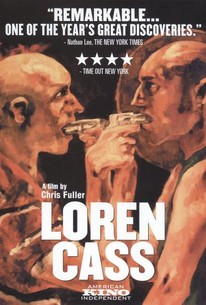 Movie Info
The debut feature by Chris Fuller, the hard-edged drama Loren Cass stars Travis Mynard as Jason, a skinhead who starts a racial conflagration after playing a prank on a Black man with the help of his friend Cale (played by the director and writer, but billed under the name Lewis Borgan). Cale asks out a young waitress (Kayle Tabish), but they end up having dinner at the diner where she works. Everyone in the film seems weighed down by hopelessness and racial tension.
Rating:
NR
Genre:
,
Directed By:
Written By:
In Theaters:
On DVD:
Runtime:
Studio:
Kino International
Critic Reviews for Loren Cass
Audience Reviews for Loren Cass
½
Indie movie filmed on a little budget with very little to say. . . literally and figuratively. First time 21-year old director has potential but really didn't display much in this film that hasn't been said or done many, many times before and done much better.
Ned Isakoff
This movie was horrible. I'm not going to say that it had bad plot development. It had no plot. There was no character development. And pretty much no one did anything for the entire movie. It was full of random life events. One guy got beat up. Another one ate a hamburger. WTF were they thinking. This movie reminded me of Gummo, only less plot (if you can imagine that). Bad. Just Bad.
John Trifiletti
½
"Loren Cass" is a fine example of minimalist filmmaking, relying less on story, than on a particular time and place which in this case is St. Petersburg, Florida in 1997. With the parents either being catatonic or blithely ignorant, it is no surprise at the level of teen alienation which is exacerbated by the lack of communication, expressed in the low amount of dialogue. At least Cale(Chris Fuller, who also wrote and directed), Jason(Travis Maynard) and Nicole(Kayla Tabish) are waking up to their potential. Cale does not even go home, sleeping on the floor at the auto shop where he works. His friend Jason waits in the middle of the street for him to get off work.(Jason has dreams of his own death.) The two friends hang out, get into fights and are interviewed by the police. That cycle is broken up when Cale meets Nicole, who waits tables and has frequent anonymous sexual hookups.
Loren Cass Quotes
There are no approved quotes yet for this movie.