Colin
(2009)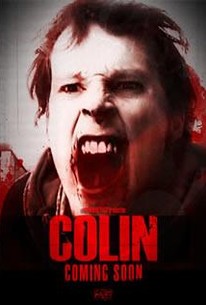 Movie Info
Produced on a micro-budget of just $70, director Marc Price's independent horror film Colin details the painful transformation of a typical British teen into a flesh eating corpse from his own personal perspective. ~ Jason Buchanan, Rovi
Audience Reviews for Colin
½
Very cheap but pretty cool zombie film. This caused a bit of a stir on release as it was apparantly made for £45! Looking at that you might think how the fuck could anyway make a half decent film for that price? But it worked! Colin is made mostly from the zombies' point of view making it an interesting, if sometimes very shaky, watch. Basically its about a young mans transformation into a flesh eating zombie which is happening to the rest of the country to. Some of the make-up effects look pretty cool, theres some cool jumpy bits and it can be oddly moving at times to. It may be a bit in-your-face for some but as mega-budget movies go, Colin is a good little film and a nice addition to the extremely overcrowded but still fucking cool zombie genre.
½
5.1/10 Marc Price's indie zombie-horror flick "Colin" is a perfect example of what can happen when you have a good idea, good intentions, yet don't intend to spend any good money whatsoever. Made on a measly 70 dollars, or somewhere near that, the film is more-so an exercise in just how much low-budget antics one can take. I suppose in the theater, the experience would be slightly more endurable, but at home, while watching the film, I honestly found myself really, really bored; and I was insulted by my own feelings towards the film, in this way. I wanted to like it. I wanted to praise how much it does on its low budget, but the truth is, it doesn't quite do enough to warrant a positive review. I can't call it bad; there are some seriously tasteless, mindless, stupid zombie films out there, and this is not one of them. But "Colin" seems to be consistently searching for something more than a standard zombie tale, but it can't quite find "it"; whatever "it" is. The film gets started pretty quickly. The titular character arrives at his friend's house with a wounded arm, and attempts to heal it. The house is empty, and there appears to be chaos ensuing outside, and it's not until Colin once again steps foot out there that we learn just what's going on. You see, the character has been bitten by an infected, undead individual; a zombie, and now, he too is one of them. What's a zombie to do? Colin walks the streets of London, aimlessly looking for purpose, getting mugged, passing by countless other zombies, and eventually getting captured by some remaining survivors. We meet Colin's sister, who at one moment attempts to refresh her brother's memory through pictures, but fails to get any type of response. Colin has, unfortunately, lost all of his humanity; he is not part human, but all-zombie. Now it's all a matter of how many times he can dodge a bullet or whatever other weapon is aimed for his decaying flesh. As a simple zombie tale, "Colin" plays out fairly decently and overall "better" than most of its kind, and perhaps I say that only because I have minor sympathies for a film made with so little cash. This makes the film's lack of depth and consistency forgivable and even acceptable, but I imagine that some - including me - will still lack the patience for director Price's documentary-like treatment. He presents the story from Colin's point-of-view, which isn't all that original at this point, but I also wouldn't call it overused, so it made for something potentially interesting. Sadly, in Price's world, zombies have absolutely horrible vision; or at least that is what the genuinely poor camerawork seems to imply. I know the director wasn't working with much of a budget, but please, there had to be some way that he could have made more beautiful images. Everything looks boring; almost to the point where it's all apocalyptic and creepy no longer. I don't know. Maybe the film's biggest fault of all is not its budget restrictions. There's a human element that "Colin" attempts to explore with its zombie story, which puts an undead character as its central protagonist, but it never quite captures human drama the right way. The dim cinematography, the mediocre acting, and the excessive use of shaky-cam prevented me from enjoying the film in the slightest, and even when it tries to be "something more", it still fails to be conclusive. "Colin" is not a miss, just as it isn't a recommendation either. Some might be entertained by it, but I imagine most will find themselves wanting to close their eyes and doze off, perhaps to a world where a better film is playing on some other screen. To end this review, I want to make one thing clear; I am not in any way insulting "Colin". It's a competent and ambitious debut feature that simply lacks the right treatment for its material. I like zombie movies and on occasion, I like indie flicks, but here, the two just don't mix. Die-hard fans of the genre should probably check it out, and I hope Price goes on to make bigger, better films; but the fact that I had heard of a film as small as this one should have meant something, but as the film progressed, I realized that it just...didn't. But overall, can't say I mind it; but I will most certainly forget "Colin", for it doesn't offer much in the way of tasty, entertaining morsels.
Ryan Marshall
Super Reviewer
I find it absolutely amazing how he filmed this all with a little camcorder, with a budget of only $70. I LOVED the story. Possible one of the greatest zombie flicks i've ever seen. In my life. Ever. Go watch it!
Jacob Palacio
Super Reviewer
Colin Quotes
There are no approved quotes yet for this movie.