1776
(1972)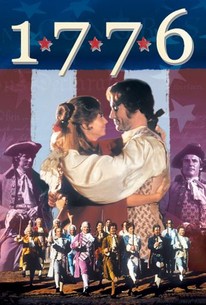 Movie Info
You'll be seeing stars and stripes as the most fascinating leaders in American history come to life in 1776, a musical about the birth of a nation! With the Boston Harbor still stained from over-taxed British tea, a revolution is brewing in the colonies! And now England has thousands of troops headed for America's shores to squelch her subjects' freedom-loving spirit!
Audience Reviews for 1776
Undoubtedly, the best Fourth of July film ever. The songs are -- for the most part -- unmemorable. The acting varies from good to pedestrian. Cinematography is bland and uninspired. Sets are -- well, early 1970's studio-chic. Costumes are marginally good. Nevertheless, "1776" is captivating and a wonderful, family-friendly history lesson on America's independence journey, with warts and all.
Christian C
Super Reviewer
1776 Quotes
| | |
| --- | --- |
| John Hancock: | I'm still from Massachusetts, John. You know where I stand. I'll do whatever you say. |
| John Adams: | No. No, you're the president of Congress. You're a fair man, Hancock. Stay that way. |
| | |
| --- | --- |
| Stephen Hopkins: | Ah, Ben! I want you to see some cards I'd gone and had printed up. Oughta save everybody here a lot of time and effort, considering the epidemic of bad disposition that's been going on around here lately. "Dear Sir, you are without any doubt, a rogue, a rascal, a villain, a thief, a scoundrel, and a mean, dirty, stinking, sniveling, sneaking, pimping, pocket-picking, thrice double-damned no-good son of a bitch." and you sign your name - what do you think? |
| Benjamin Franklin: | I'll take a dozen, right now. |
| | |
| --- | --- |
| Richard Henry Lee: | You've come to the one colony that can get job done: Virginia. The land that gave us our glorious commander in chief, George Washington, will now give the congress its proposal on independence. Where Virginia goes the south is bound to follow. And where the south goes, the middle colonies go! Gentlemen, a salute to Virginia, the mother of American independence! |
| | |
| --- | --- |
| Benjamin Franklin: | If we do not hang together, we shall most assuredly hang separately! |
Discussion Forum
Discuss 1776 on our Movie forum!