The Undefeated
(2011)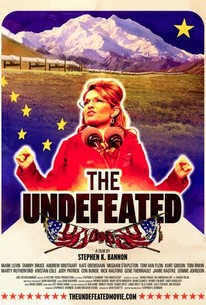 Movie Info
Alaska in mid-decade was a land of vast natural resources fought over by the largest companies in the world and governed by a corrupt and compromised political class. Rampant crony-capitalism stood in the way of the people of Alaska reaping the benefits of their natural birthright. Enter a galvanizing reformer, a small town mayor who took on her own political party and brought on "sudden and relentless reform." The Undefeated chronicles the rise from obscurity of one of America's new generation of leaders: Governor Sarah Palin of Alaska. Starting during the Exxon Valdez disaster of 1989 when Palin worked a commercial fishing boat she owned with her blue-collar husband, the film shows the struggles, the victories and the setbacks during a controversial career. -- (C) Official Site
Rating:
PG-13
Genre:
,
Directed By:
Written By:
In Theaters:
On DVD:
Box Office:
$101,382.00
Runtime:
Studio:
News & Interviews for The Undefeated
Critic Reviews for The Undefeated
Audience Reviews for The Undefeated
Sarah Palin does more to expose the left in their hypocrisy, hate and intolerance than anyone else. This documentary proves that much, especially in the first of three Acts. To the objective eye, there's no doubt why she garnered an 80% approval rating while governor of Alaska as she took on big oil and corrupt politicians. I have no doubt she'd had done the same in Washington. Since she's decided not to run for office, I think her star power will keep the conservative message in the forefront and eventually help get rid of the worst administration in history. The only criticisms I have are that they could have used different music instead of the same score that went on through the entire movie. Also, I think two hours was a bit long and the director's message would have been just as effective in 90 minutes.
Tom Mourgos
Although Palin could probably make for an interesting subject of an in-depth documentary about her unlikely quasi-political career (her rise was more meteoric than most!), The Undefeated is NOT it. Saving all the time and trouble, this doc gives its viewers absolutely nothing new. It is a paint-by-the-numbers, Documentary Film-Making 101 college student production (although it isn't) that is a chore to watch -- not because of subject matter; but becuase of its shoddy production values. Just as the narration provides a nice sound quip, the screen goes black and the audience is informed that the next section of the "film" is entitled exactly what the filmmakers had just said ... and it is literally written out for us on the screen! There is no debate or no real discussion about who Ms Palin is ... it is spelled out for everybody and it is comes across as rather insulting (is she seriously this one-sided?). The film opens with vile comments made by her detractors which is supposed to encompass all who disagree ... but shame, shame ... that isn't the case. People CAN disagree. The film makes her out to be the one good apple in a barrel of bad ones ... and no human is that flawless except for ... and I highly doubt even Palin would accept that praise. This isn't a film and it isn't really a documentary ... it is a love-letter/vanity project made by a swooner. I was hoping for some depth and analysis of Palin's character and I wanted to see why McCain chose her over some other, more-qualified individuals for his running mate; but the film doesn't paint a whole picture. Again -- we are told what people want us to "know" and hear. It is all gloss.
Thomas Williams
I'm pretty sure she WAS defeated, then quit, then never even tried. Just in it for the money, just ask Todd.
Sean Gillespie
Super Reviewer
Discussion Forum
Discuss The Undefeated on our Movie forum!