A Monster in Paris
(2011)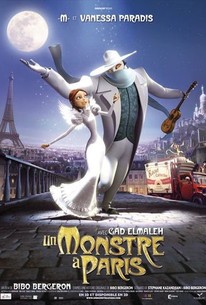 A Monster in Paris Photos
Movie Info
An oversized bug is caught up in a most unexpected adventure in this animated comedy. It's 1910, and Raoul is a Parisian delivery man by day and scientist by night who is determined to brainstorm an important new invention. With the help of his friend Emile, a cinema projectionist with women on the brain, Raoul attempts an experiment in a greenhouse that has an unexpected side effect -- a tiny flea has suddenly expanded until it's seven feet tall. The enormous flea gets loose and it's not long before word is out that a monstrous bug is haunting Paris. However, while mean-spirited politician Victor tries to snare some publicity by making people afraid of the bug before he catches it, Lucille, a pretty nightclub performer, makes a surprising discovery -- the big flea is not only gentle and friendly, he's a gifted guitar player, and decked out in a suit and a hat, he's soon impressing patrons as part of her act. Un Monstre a Paris (aka A Monster In Paris) was written and directed by Bibo Bergeron, returning to France after directing several successful features in the United States. The original French voice cast includes Gad Elmaleh, Sebastien Desjours, Ludivine Sagnier and Francois Cluzet, while the English language version features Adam Goldberg, Jay Harrington, Catherine O'Hara and Danny Huston; Vanessa Paradis voices Lucille in both versions. ~ Mark Deming, Rovi
Critic Reviews for A Monster in Paris
Audience Reviews for A Monster in Paris
This is very sweet and beautifully animated, not sure why it was so under the radar...
I think I liked this movie far more than the rating implies. It's a movie that wear its influences on its sleeve, from the silent film influences to old monster movies. I think the movie pays fitting tribute to the movies that influenced it, while still creating its own entertaining little story. I do think the movie does have some inconsistencies as far as its comedy goes but I think it is a heartfelt and sweet film. I think there's also some problems with the presentation of some of the characters. I think the movie could've spent a little more time developing its characters rather than just thrusting them right into the 'story' right from the start. But still, that's a minor complaint, because I do think the movie overcomes that because it is so lively and it has an entertaining tone. And, much unlike The Hole, this film can also be entertaining to adults and not just the kids, especially the film buffs that are into silent and old monster films. Of course the animation isn't outstanding, it doesn't have that polish that most people are used to, but I still think it's very good given the budget. Especially the animation for the musical performances, the dancing and whatnot, does look excellent. The voice acting is more than solid, if not particularly outstanding. So yes, I really liked this movie a lot. It doesn't get a better rating because it does lack a little extra something, but it's a 'very good' good movie. This is a fun family film.
Jesse Ortega
Super Reviewer
½
Loved this animation. Really recommend everyone to watch. Great movie to watch with your family.
Dead Angel
Super Reviewer
A Monster in Paris Quotes
There are no approved quotes yet for this movie.