Alice Through the Looking Glass
(2016)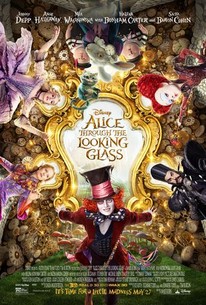 TOMATOMETER
AUDIENCE SCORE
Critic Consensus: Alice Through the Looking Glass is just as visually impressive as its predecessor, but that isn't enough to cover for an underwhelming story that fails to live up to its classic characters.
Alice Through the Looking Glass Videos
Alice Through the Looking Glass Photos
Movie Info
In Disney's "Alice Through the Looking Glass," an all-new spectacular adventure featuring the unforgettable characters from Lewis Carroll's beloved stories, Alice returns to the whimsical world of Underland and travels back in time to save the Mad Hatter. Directed by James Bobin, who brings his own unique vision to the spectacular world Tim Burton created on screen in 2010 with "Alice in Wonderland," the film is written by Linda Woolverton based on characters created by Lewis Carroll and produced by Joe Roth, Suzanne Todd and Jennifer Todd and Tim Burton with John G. Scotti serving as executive producer. "Alice Through the Looking Glass" reunites the all-star cast from the worldwide blockbuster phenomenon, including: Johnny Depp, Anne Hathaway, Mia Wasikowska and Helena Bonham Carter along with the voices of Alan Rickman, Stephen Fry, Michael Sheen and Timothy Spall. We are also introduced to several new characters: Zanik Hightopp (Rhys Ifans), the Mad Hatter's father and Time himself (Sacha Baron Cohen), a peculiar creature who is part human, part clock. Alice Kingsleigh (Wasikowska) has spent the past few years following in her father's footsteps and sailing the high seas. Upon her return to London, she comes across a magical looking glass and returns to the fantastical realm of Underland and her friends the White Rabbit (Sheen), Absolem (Rickman), the Cheshire Cat (Fry) and the Mad Hatter (Depp), who is not himself. The Hatter has lost his Muchness, so Mirana (Hathaway) sends Alice on a quest to borrow the Chronosphere, a metallic globe inside the chamber of the Grand Clock which powers all time. Returning to the past, she comes across friends - and enemies - at different points in their lives, and embarks on a perilous race to save the Hatter before time runs out. Presented in Digital 3D(TM), Real D 3D and IMAX (R) 3D, Disney's "Alice Through the Looking Glass" opens in U.S. theaters on May 27, 2016.
News & Interviews for Alice Through the Looking Glass
Critic Reviews for Alice Through the Looking Glass
Audience Reviews for Alice Through the Looking Glass
½
Through the Looking Glass has more going for it that exceeds the shallow action exhibition of its predecessor, however I think all the excessive visuals deter much from the human aspect of the film. The sequel is a winding lesson about accepting the past, moving forward and family. In all of it's visual spender it feels as though these core themes simply don't resonate the way they could at any point. The wooden relationships between the characters are likely to blame, they often feel superficial without any context. If only Burton spent as much time on giving them the heart that they deserved instead of making a CGI fiesta.
Drake Tsui
Super Reviewer
½
James Bobin tones down Underland in Alice Through the Looking Glass. Traveling a 110 minutes, the film has an interesting story to tell. Time travel has the habit of peeking interest and it does so here. With that said, the quirkiness and overall fun fantasy piece that is the Underland universe is light and overpowered with a more serious tone. As expected the CG is on overload, leaving a colorful and pleasing look to the eyes. With as much CG as there is, it definitely has its ups and downs, but it works in this picture's favor more than it hurts. The likes of Johnny Depp, Mia Wasikowska, Helena Bonham Carter, and Anne Hathaway reprise roles successfully. No award winning performances here; just good clean fun characters. Not as over the top as expecting, Sacha Baron Cohen is a pleasant surprise. Alice Through the Looking Glass never busts through the glass, but merely crosses through it.
½
Alice Through the Looking Glass is a wackadoodle free-for-all with a CGI budget that's roughly the GDP of an island nation. Every scene of this haphazardly plotted film bursts with more computer generated imagery than the human eye can even absorb. Each display vies for the viewer's attention as effect is heaped upon effect. One exhibition competes with the next for space within the frame. There is little relief from the uninterrupted excess. The crowded extravaganza is so staggeringly overindulgent, it's vulgar. I've played with kaleidoscopes that had a more coherent narrative. Meanwhile Johnny Depp minces with abandon as the Mad Hatter, lisping all the while in another fey performance so cloying it inspired me to brush my teeth afterward for fear I might get cavities. Helena Bonham Carter, so wonderful as the Red Queen in the last film, bickers with her sister to the point of annoyance. Her decades old hate for her sibling, the White Queen (Anne Hathaway), revealed as having originated as a lie to the question "Who ate these tarts?" There is little story. Just effects. Alice Through The Looking Glass is stridently obscene in its desire to distract and confuse. The production is focused on satiating the basest component of visual desire and nothing more. It's offensive. fastfilmreviews.com
Mark Hobin
Super Reviewer
Alice Through the Looking Glass Quotes
| | |
| --- | --- |
| The White Queen: | The Hatter is counting on you. |
| Cheshire Cat: | We all are. |
| | |
| --- | --- |
| Hamish: | Hurry up! Time is money. |
| Alice Kingsleigh: | Time is not money, nor is he your enemy! |
| | |
| --- | --- |
| Hamish: | Hurry up! Time is money. |
| Alice Kingsleigh: | Time is not money, nor is he your enemy! |
| | |
| --- | --- |
| Mad Hatter: | I Love Him And Johnny,They're Amazing |
| Mad Hatter: | I Love Him And Johnny, they're amazing. |
| Mad Hatter: | I love him and Johnny, they're amazing. |
Discussion Forum
Discuss Alice Through the Looking Glass on our Movie forum!