An American Vampire Story
(2000)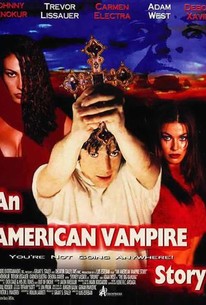 AUDIENCE SCORE
Critic Consensus: No consensus yet.
An American Vampire Story Photos
Movie Info
Frankie (Trevor Lissauer) is a young man who seems to have hit the jackpot: Moondoggie (Johnny Venocur), a cool -- if a little strange -- dude Frankie met at the beach, throws a wild party at Frankie's parents' house, with two beautiful and sexually adventurous women (Carmen Electra and Deborah Xavier) as invitees. But in the morning, the party people are still at the house. In fact, they have no intentions of leaving. In fact, they are all vampires and they intend to hide out at Frankie's house while dining on the neighbors and pets. Frankie enlists the help of the Big Kahuna (Adam West), a veteran vampire killer and legendary surfer dude, to rid his house of these pesky bloodsuckers.
Rating:
PG-13 (vampire violence, crude dialogue, and sexual content)
Genre:
,
Directed By:
Written By:
On DVD:
Runtime:
Critic Reviews for An American Vampire Story
There are no critic reviews yet for An American Vampire Story. Keep checking Rotten Tomatoes for updates!
Audience Reviews for An American Vampire Story
½
A teenager unknowingly invites a couple of vampires to stay, after his parents leave the house to him for the summer. He begins to realize his mistake when the local animal population starts to dwindle and his unusual company begins to show their true intentions. The focus of the film might seem captivating to hardcore vampire enthusiasts, but it's completely centered around embarassing dialogue and hokey acting from it's characters. I watched this film solely because of Carmen Electra (which has her picture displayed all over the cover), on top of that, she's hardly present in any of the scenes. I know she wouldn't have saved this film for me, but maybe a little skin might have made it bearable. American Vampire steers into ridiculous territory with production having a hazy vibe throughout. The plot is pure cheese factor, having no intelligence, or any horror for that matter; the presence of gore is completely non-existant. The film was made only to show that the director can make a shoddy production. The leads were a waste and were not even subtle in their horrible acting, even though having Adam West as the Big Kahuna was rather humorous. Upon first meeting, his character gets really interested in what the "scantily-clad" female vampires look like, even asking the teenager if he was gay for turning down their seductive advances. Why wasn't more humor like this involved in the script? Granted, I wasn't really expecting anything from American Vampire, except a chance to check out Electra and Co.; which was also disappointing.
Rob Cisneros
I don't understand why they make movies like this...
Sarah Prisbylla
Super Reviewer
Another batch of ratings...alot of "6's" [i]28 Days Later[/i] had an interesting plot, but was a little hard to follow. By the end I didn't care if they survived or not... [i]The Giant Gila Monster[/i] was gloriously bad. It is exactly what a "B" horror movie should be. Unbelievable plot, cheesy/fake looking monster, bad acting...all the essentials. I loved tha way the characters kept describing the gila monster as being pink and black when the film was in black and white and you had to imagine the coloration (I kept imagining hot pink for some reason). [i]American Vampire[/i] was another gloriously bad movie. This one was just too funny to be taken seriously as a part of the horror genre. Imagine Adam West (the tv Batman) as a surfer dude/Van Helsing character. I think you can get the idea of how the movie was just from that... [i]The Ring Two[/i] was a decent follow-up to [i]The Ring[/i]. It had some very good effects and a plot that seemed to make sense (other than the girl killed you by having you watch a videotape, which didn't make sense in the first movie). Some questions were answered to tie the two movies together. The car scene with the deer freaked me out a little bit, but then we have a lot of deer around here. [i]Master and Commander[/i] was ok. It had some good scenery and a few interesting characters. I should probably watch it again when I can devote more attention to it because I was working on my homework at the time and missed some things. Perhaps I will watch it again sometime and give it a more fair review.
Amy Clark
An American Vampire Story Quotes
There are no approved quotes yet for this movie.